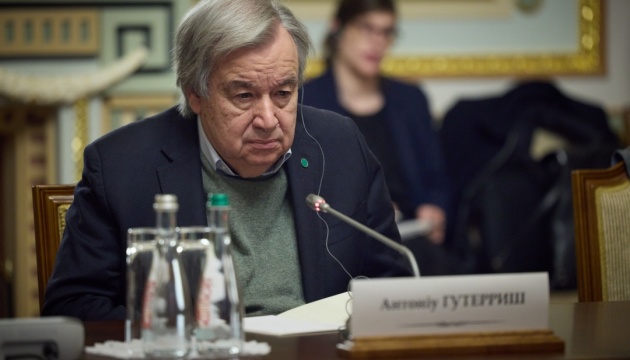 Guterres: Our ultimate goal is a just peace in Ukraine based on UN Charter
The ultimate objective of the UN in the context of the war that Russia started against Ukraine is to achieve a just peace in accordance with the UN Charter and international law.
UN Secretary General Antonio Guterres said this at a press conference with Ukrainian President Volodymyr Zelensky in Kyiv on Wednesday, March 8, according to an Ukrinform correspondent.
"The position of the United Nations, which I have consistently expressed, is crystal clear: Russia's invasion of Ukraine is a violation of the UN Charter and international law. The sovereignty, independence, unity and territorial integrity of Ukraine must be upheld, within its internationally recognized borders. Our ultimate objective is equally clear: a just peace based on the UN Charter, international law and the recent General Assembly resolution marking one year since the start of the war," Guterres said.
He added that until that just peace can be secured, the UN continues working hard to mitigate the impacts of the conflict which has caused enormous suffering for the Ukrainian people – with profound global implications.
Guterres also expressed his deep solidarity with the victims of the war – to those who have lost their lives, their loved ones, and to those who have seen their hopes dashed or had to flee in search of survival.
"They are all owed effective accountability," he said.
Photo: en.dialoq.info