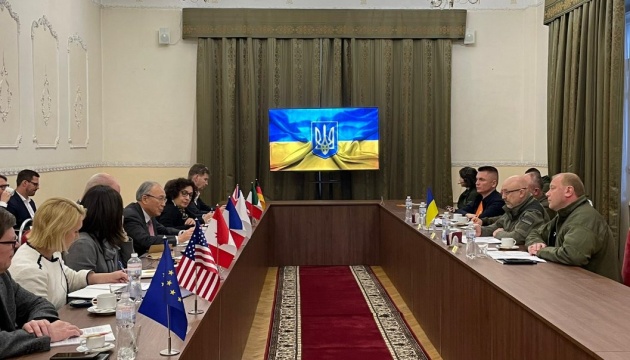 Defense minister Reznikov, new deputies meet with G7 ambassadors
Ukraine's Minister of Defense Oleksii Reznikov held a meeting with the ambassadors of the Group of Seven with the participation of his newly appointed deputies, to discuss the ongoing fight against corruption and management reform.
That's according to a tweet by Japan's chairmanship of the G7 Ambassadors' Support Group in Kyiv, Ukrinform reports.
"Today, Oleksii Reznikov introduced G7 Ambassadors to his new deputies, and highlighted Defense Ministry's ongoing efforts to address corruption and advance management reforms. We reaffirmed our commitment to continued military and defense support to Ukraine and underscored the importance of transparency and accountability to reassure partners and support Ukraine's Euro-Atlantic integration," the Group of Seven diplomats noted.
As reported, the Cabinet of Ministers at its meeting on February 14 appointed Oleksandr Pavliuk as first deputy minister of defense. At a meeting on February 21, the government appointed the founder of the "Come Back Alive" Foundation, Vitalia Deinega, as deputy minister of defense for digital development, digital transformation, and digitalization, while Andriy Shevchenko, the former ambassador of Ukraine to Canada, was appointed as deputy minister of defense for European integration.
Photo: G7AmbReformUA