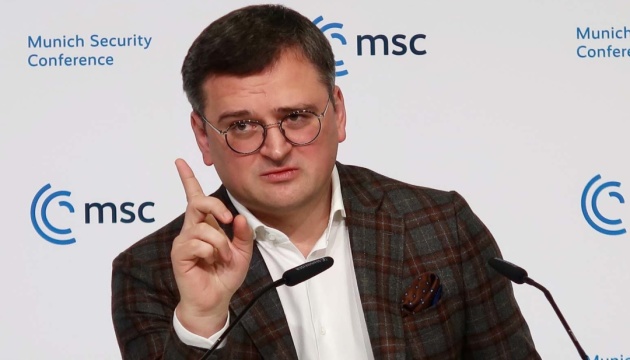 FM Kuleba: Ukraine wins against Putin's winter terror
Putin's fifth defeat is that Ukraine has endured Russia's winter terror.
The relevant statement was made by Ukrainian Foreign Affairs Minister Dmytro Kuleba on Facebook, an Ukrinform correspondent reports.
"On March 1, 2023, Putin suffered his fifth major defeat since the full-scale invasion started – Ukraine won against his winter terror. We have endured the hardest winter in our history. It was cold and dark for us, but we were indomitable," Kuleba wrote.
Kuleba emphasized that, together with Ukraine, international partners stood side by side with their assistance.
"The EU also won, which, despite Moscow's laughter, did not freeze without Russian gas too," Kuleba noted.
In his words, there is one piece of advice to Russia, to suffocate with its own gas and choke with its own missiles.
According to Kuleba, Russia's first defeat was that Ukrainians did not allow Putin to paralyze themselves with fear from the first minutes of the offensive. The second defeat was that Ukrainians disrupted Russia's blitzkrieg plan, and Ukraine did not fall, either in three days or in a year.
"And will never fall," Kuleba added.
The third defeat was suffered by Russia on the diplomatic front (a global coalition in support of Ukraine, resolutions, isolation, arms supplies, sanctions, energy, financial and humanitarian aid to Ukraine). The fourth defeat was that Russia lost a significant portion of the areas it temporarily occupied due to the effective actions and counteroffensives by Ukraine's Defense Forces.
"There is still a challenging way towards the final victory. But, we already know how to win. We have to work for it [victory – Ed.] every day and trust in Ukraine," Kuleba concluded.
A reminder that, since October 2022, Russia has launched 255 missile strikes on 112 energy infrastructure objects across Ukraine. During the winter period, the aggressor state used power and heat supply interruptions as a weapon, attempting to force Kyiv to make concessions.