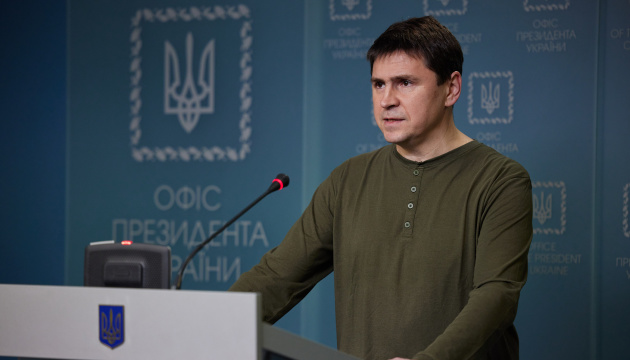 Ukraine advisor on Bejing's "peace plan": China yet not fully understands "Russia is gone"
Mykhailo Podolyak, an adviser to the head of the Ukrainian President's Office, believes that China, offering a "peace plan" for Ukraine where one point contradicts another, is actually siding with the Russian Federation, trading its reputation and not fully understanding that Russia is gone.
That's according to Polodyak's comment voiced on Freedom TV.
"There is one important point in the Chinese plan – an immediate ceasefire. And this is the only effective point that exists in this plan. And this means that Russia will remain in the occupied territories, we will have a new demarcation line, and we will see a slow absorption of Ukraine. This there will not be a three-day blitzkrieg, but, let's say, a three-year destruction of Ukraine with the ever-growing influence of the Russian Federation... I believe that all peace plans that provide for an immediate ceasefire and preservation of the current territorial status quo are exclusively a game in favor of the Russian Federation. It's surprising to me that someone still doesn't understand this... And it's surprising to me that China still doesn't fully understand that Russia is gone," he said.
According to the official, Ukraine understands the position of any country that expresses its point of view in one way or another. But, if the country claims the role of a global power and puts forward fundamental initiatives – and China claims exactly this role – then they should be very scrupulous about the words they propose.
"They (points of the peace plan - ed.) must have a logic that is understandable to many countries. It can be positive, negative, you may like it or not, but it must be a clear and understandable position. If you prescribe territorial integrity and sovereignty as inviolable canons for the modern world, then the question arises how to implement it in the presence of Russian troops on Ukrainian territory and an immediate ceasefire. How could it be implemented? Otherwise, this means one point contradicts another. It is then just a vague document of no value," emphasized Podolyak.
In his opinion, China is playing someone else's game now. "They have their own thousand-year history, they plan for 10 to 20 years ahead, they see completely different life cycles, and now they are starting to exchange their reputation and their history, as well as the fundamental technology markets of Europe and the United States for a country that will definitely not exist in its current form tomorrow and neither will it have any influence on global politics. It is not clear to me why China should swap their reputation for this all," Podolyak said.
As reported, the PRC presented a 12-point document that, according to Beijing, will help settle the conflict. However, many saw nothing constructive in the offered approach, noting that in general it can be considered to be more in line with the interests pursued by the Kremlin.