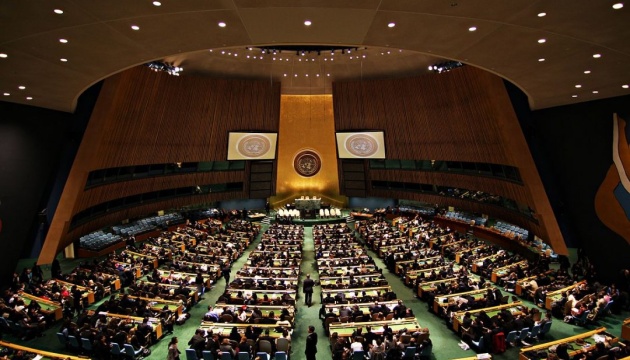 More than 140 UN member states vote in favor of Ukrainian peace formula
The resolution entitled "Principles of the Charter of the United Nations that underline the comprehensive, just and lasting peace in Ukraine" was adopted at the UN General Assembly's emergency special session meeting.
The resolution was passed with 141 votes for, 7 against, and 32 abstentions, an Ukrinform correspondent reports from New York.
Russia, Belarus, North Korea, Eritrea, Mali, Nicaragua, Syria voted against.
China, India, Pakistan, Cuba, Iran, Kazakhstan, Armenia, South Africa are among the countries that abstained.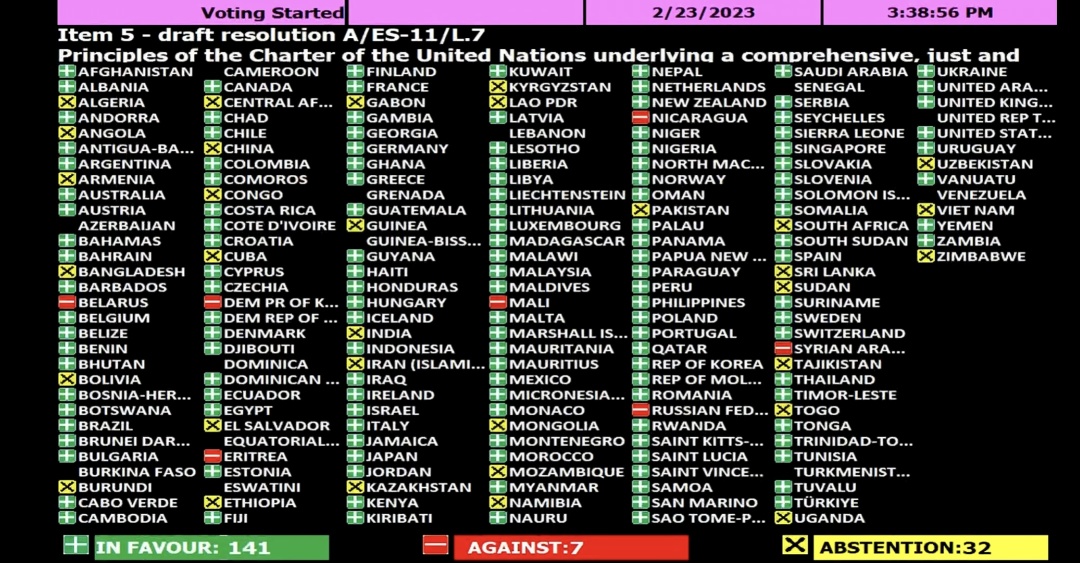 The eleven-point resolution "underscores the need to reach, as soon as possible, a comprehensive, just and lasting peace in Ukraine in line with the principles of the Charter of the United Nations" and calls on member states and international organizations to " redouble support for diplomatic efforts" to achieve it.
The document reaffirms its commitment to the sovereignty, independence, unity and territorial integrity of Ukraine within its internationally recognized borders and reiterates its demand that the Russian Federation "immediately, completely
and unconditionally" withdraw all of its military forces from the territory of Ukraine.
The General Assembly calls for complete exchange of prisoners of war, the release of all unlawfully detained persons and the return of all internees and of civilians forcibly transferred and deported, including children.
In addition, the resolution calls for an immediate cessation of the attacks on the critical infrastructure of Ukraine and any deliberate attacks on civilian objects, including those that are residences, schools and hospitals.
The document emphasizes the need to ensure accountability for the most serious crimes under international law committed on the territory of Ukraine through appropriate, fair and independent investigations and prosecutions at the national or international level.
Earlier, Minister of Foreign Affairs Dmytro Kuleba stated that the UN General Assembly resolution on peace in Ukraine covers the key points of the peace formula put forward by President Zelensky.
As reported, on March 2, 2022, the UN General Assembly adopted the resolution "Aggression against Ukraine" condemning Russia's invasion of Ukraine and demanding that the Russian Federation immediately withdraw its troops from the territory of Ukraine. The resolution was supported by 143 countries.
On March 24, 2022, the General Assembly adopted the resolution entitled "Humanitarian consequences of the aggression against Ukraine" with 140 voting in favour.