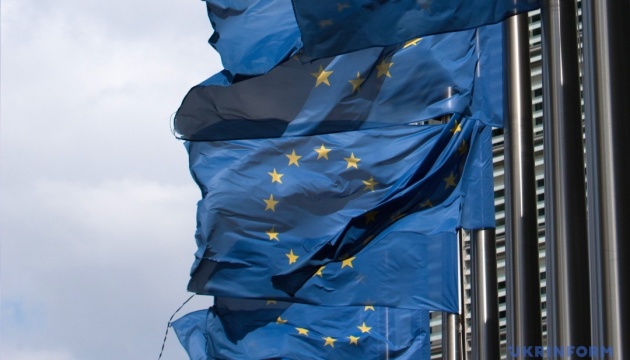 EU leaders express strong support for Ukraine
Ahead of the one-year anniversary of Russia's unprovoked invasion of Ukraine, EU heads of state and government expressed strong support for Ukraine and its people in the fight for their future, for freedom and democracy against Russia's war of aggression.
"One year ago, Putin's Russia started its brutal war of aggression against Ukraine. The Ukrainian people have shown incredible strength in defending their homeland and the core principles of international law against Russian aggression. They have shown resolve in defending democracy and freedom, resilience in the face of hardship and dignity when confronted with Russia's crimes," reads the statement by the members of the European Council.
As noted, the Ukrainian people have shown the world that the future of Ukraine is for the Ukrainians to decide. No country has the right to invade its neighbour or violate its sovereignty and territorial integrity.
"This aggression is a crime against peace. It violates the UN Charter, the UN principles and the values of mankind. We cannot and should not remain passive in front of such crimes," the European leaders underscore.
They note that Russia has systematically targeted civilians, destroyed cities, and attacked Ukrainian identity. It is stressed that all those who are responsible for war crimes and other most serious crimes committed in connection with Russia's war of aggression against Ukraine must be held to account.
The EU leaders underscore that Russia has weaponised food and energy, made deeply irresponsible nuclear threats and spread false narratives about the war. Russia's war of aggression and its consequences have significantly affected many countries notably through its impact on the global economy, food and commodity prices. The European Union will continue to work with partners to mitigate these effects and to provide assistance to the countries and people most in need.
"The European Union and its partners have acted swiftly and in unity. And we will continue to stand firmly and in full solidarity with Ukraine and its people for as long as it takes. All Ukrainians deserve to live in peace and choose freely their own destiny. Ukraine is part of our European family. Ukrainians have expressed their wish for a future within the European Union and we have acknowledged that by granting Ukraine the status of candidate country. The choice of the people of Ukraine is one of peace, democracy, rule of law, respect for fundamental rights and prosperity," reads the statement.
As the European Council members emphasise, the European Union will continue to support Ukraine in political, economic, humanitarian, financial and military terms, including through swift coordinated procurement from European industry.
"We will also support Ukraine's reconstruction, for which we will strive to use frozen and immobilised Russian assets in accordance with EU and international law. We will further increase collective pressure on Russia to end its war of aggression. To this end, we will adopt a tenth sanctions package and we will take steps against those who attempt to circumvent EU measures," the document says.
"We support President Zelenskyy's peace formula. Together with our international partners, we will make sure that Ukraine prevails, that international law is respected, that peace and Ukraine's territorial integrity within its internationally recognised borders are restored, that Ukraine is rebuilt, and that justice is done. Until that day, we will not rest," the members of the European Council emphasise.
A year ago, on February 24, 2022, the Russian Federation launched an unprovoked and brutal war of aggression against Ukraine. From the first days of the invasion, the EU has been providing Ukraine and its people with significant political, economic, financial, humanitarian, and security assistance.