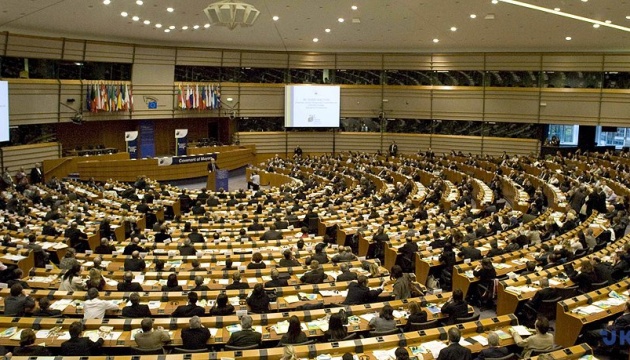 European Parliament calls on world countries to provide Ukraine with tanks and fighter jets to defeat Russia
Members of the European Parliament called on EU Member States and the international community to provide Ukraine with comprehensive support and military assistance, including heavy equipment and fighter jets, to achieve victory in the war unleashed by Russia.
This is stated in the European Parliament resolution on one year of Russia's invasion and war of aggression against Ukraine adopted today during the plenary session in Strasbourg, an Ukrinform correspondent reports.
In particular, the European Parliament reiterates its unwavering support for the independence, sovereignty and territorial integrity of Ukraine, within its internationally recognised borders and demands that Russia and its proxy forces cease all military actions and withdraw all military forces, proxies and military equipment from the entire internationally recognised territory of Ukraine.
MEPs reaffirm their support for providing military aid to Ukraine for as long as necessary. In this context, the EU welcomes the efforts made by the Member States and the efforts of the High Representative of the EU in coordinating such military support to allow Ukraine to exercise its legitimate right to defend itself against Russia's war of aggression.
They also reiterate the call on the Member States to substantially increase and accelerate their military support with a view to not only allowing Ukraine to defend itself against Russian attacks, but also to enabling it to regain full control over its entire internationally recognised territory.
"The European Parliament… calls on the Member States, the US, the UK and Canada to swiftly deliver on their pledge to provide Ukraine with modern battle tanks; underlines the importance of maintaining close coordination and unity among Ukraine's allies on the analysis of critical requests by the Ukrainian authorities for heavy weaponry and advanced air-defence systems; calls for serious consideration to be given to supplying Ukraine with Western fighter jets, helicopters and appropriate missile systems and to substantially increasing munitions deliveries," the resolution says.
As reported, since the beginning of the full-scale Russian armed aggression against Ukraine, which began on the morning of February 24, 2022, the European Union has been providing political, economic, financial, humanitarian, and security assistance to Ukraine. The European Parliament plays key role in these efforts by expressing solidarity and firm support for Ukraine in its struggle against Russia's war of aggression and providing relevant political recommendations for practical actions by European institutions in the implementation of assistance.