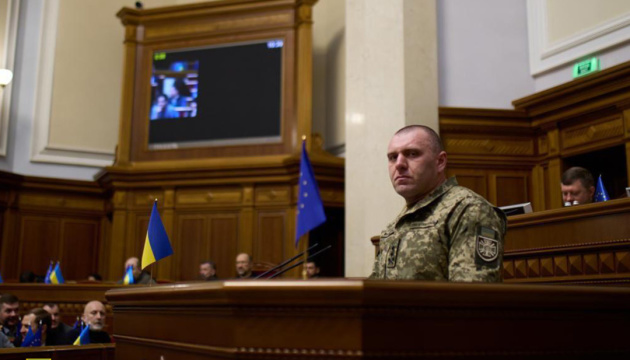 Pre-emption, mole purge: new SBU chief names priority tasks
The primary tasks of the Security Service are to cleanse its ranks of all moles, fight against collaborators and traitors at all levels, and engage in pre-emptive measures.
That's according to the newly-appointed chief of the agency, Vasyl Maliuk, who spoke in the Verkhovna Rada, Ukrinform reports with reference to the SBU press center.
Addressing the MPs after being appointed, Maliuk noted that he is aware of the level of threats Ukraine is facing amid a full-scale war, as well as of his responsibility as the head of the security agency.
"The first and most important thing is to fulfill the President's instructions and change approaches to our work. We don't just restrain the enemy, we run pre-emptive operations. We are building a new, modern model of state security, taking into account the experience of the war," he emphasized.
Among the priority tasks, he named the cleansing of the agency's ranks, fight against collaborators, enemy accomplices and traitors at all levels. "This requires a comprehensive approach on the part of the special service – when each area of operations develops uniformly and with equal quality," Maliuk emphasized.
He also briefed the lawmakers on what has been done in these areas over the past six months. In particular, it is about the reformatting of counter-intelligence and military counter-intelligence, extremely complex tasks performed by the Special Operations Center A, the outcome of operations by investigators and cyber experts.
"Today I can't disclose the details of all serious special operations in which our operatives are involved, but they are out there in the hottest spots of the war. In less than a year, six of them were awarded the Hero of Ukraine title, including four – posthumously, unfortunately... We have granted more than 500 state awards. Most of them are Orders of Courage and Bohdan Khmelnytskyi Orders. These people perform extremely difficult and extremely important tasks," the head of the SBU emphasized.
In addition, he spoke about his own combat experience.
"We showed the whole world what the Ukrainian character is. And now we have to join our forces and regain our territories! And as the head of the SBU, I will do everything for our Victory," Maliuk emphasized.
As reported, on February 7, the Verkhovna Rada supported Vasyl Maliuk's appointment to the position of the head of the Security Service of Ukraine. Until today, he was the agency's acting chief.
Photo: SBU