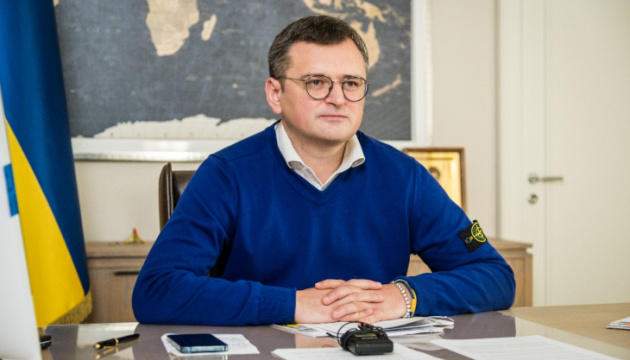 Ukraine offers EU to join all ten points of Peace Formula - Kuleba
Ukraine offers the European Union to join the implementation of each of the ten points of the Peace Formula, put forward by President Volodymyr Zelensky.
This was stated by the Minister for Foreign Affairs, Dmytro Kuleba, who spoke at a joint meeting of the Government and the European Commission, an Ukrinform correspondent reports.
The head of Ukrainian diplomacy noted that the Peace Formula proposed by President Zelensky meets the interests "not only of Ukraine and not even only of Europe, but also of the world in general."
"The peace formula is a clear strategic plan involving 10 points. We are currently working together with you on the adoption of a resolution of the UN General Assembly on the occasion of the tragic first anniversary of the Russian full-scale invasion, and we expect that not will this resolution correspond in substance to the spirit and letter of the Peace Formula, but also directly support this initiative. Our proposal is for the European Union to join the implementation of each of the 10 points of the Peace Formula," said Kuleba.
He added that today he had a conversation with the head of European diplomacy, Josep Borrell, during which the parties agreed to redouble their efforts to mobilize votes in favor of the resolution.
As reported, in November, President Volodymyr Zelensky presented the Ukrainian Peace Formula. In particular, it is about ensuring radiation, nuclear, food, and energy security, release of all prisoners and deportees, implementation of the UN Charter, and restoration of the territorial integrity of Ukraine and the world order, withdrawal of Russian troops and cessation of hostilities, return of justice, countering ecocide, preventing escalation, and fixating the end of war.
Later, Zelensky initiated the convening of the Global Summit of the Peace Formula proposed by Ukraine this winter.