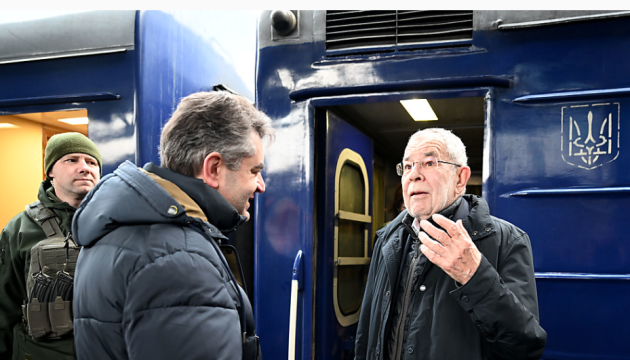 Russia waging colonial war against Ukraine - Austrian president
Russia is waging a war of aggression against Ukraine, similar to the colonial wars of the 19th century.
According to Ukrinform, Austrian President Alexander Van der Bellen told this to Austrian journalists during his visit to Ukraine.
"Ukraine is facing a war of aggression that has no analogues. It can be compared with the colonial wars of the 19th century," Die Presse quoted the Austrian president as saying.
The APA agency also cites the president's words that Russia has given Ukrainians a choice: "Either you accept being a province of Russia that is governed from Moscow, or everything will be destroyed."
However, as Van der Bellen said, the Ukrainians showed how great their will to resist is. He said that with his visit, Austria wants to show that it stands with Ukraine and will not leave it alone. "We want to send a signal: We stand with Ukraine. We will not leave you alone," the Austrian president said.
Commenting on the ongoing war, Van der Bellen also said that "the coming months will be very important" and the Russian army is likely to launch a new offensive. At the same time, he noted that so far the Russian military has failed to act as effectively as President Putin expected. According to him, the resistance of Ukrainians was "completely underestimated" by the Kremlin.
According to Van der Bellen, the West's support for Ukraine plays an important role in resisting the Russian invasion. He noted that since Austria's military neutrality does not allow it to supply weapons and military equipment, the country provides assistance to Ukraine in the humanitarian and medical areas. Van der Bellen also pointed to great support for Ukrainians from the Austrian society, which, for example, collected EUR 56 million for Ukraine as part of the Neighbor in Need campaign through donations.
"We support the Ukrainian people with all the means at our disposal," the Austrian president said.
He added that since the beginning of the full-scale Russian invasion of Ukraine, Austria has allocated EUR 118 million in aid to Ukraine.
"When I took the oath, I clearly stated that for the next six years I will continue to pay very close attention to the protection of democracy and the preservation of our European values. In Ukraine, these European values and democracy are now, in the literal sense, under attack. As a sign of solidarity and ongoing support, my first trip abroad during my second term in office took me to Kyiv," Van der Bellen said.
Photo: APA