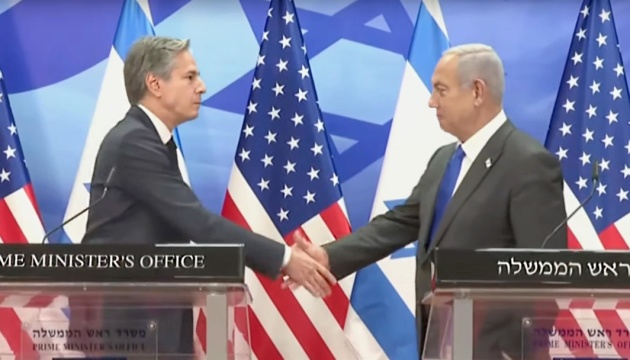 Blinken, Netanyahu discuss support for Ukraine in Jerusalem
U.S. Secretary of State Antony Blinken and Israeli Prime Minister Benjamin Netanyahu at a meeting in Jerusalem discussed measures to counter Iran, including its military aid to Russia, as well as the issue of providing comprehensive support to Ukraine.
Blinken said this at a joint press conference with Netanyahu following their meeting on Monday, according to an Ukrinform correspondent.
"We discussed deepening cooperation to confront and counter Iran's destabilizing activities in the region and beyond. Just as Iran has long supported terrorists that attack Israelis and others, the regime [in Tehran] is now providing drones that Russia is using to kill innocent Ukrainian civilians," Blinken said.
He noted that Moscow, in turn, is providing sophisticated weaponries to Iran.
"Russia's ongoing atrocities only underscore the importance of providing support for all of Ukraine's needs - humanitarian, economic, and security," Blinken said, adding that this topic was also discussed during the meeting in Jerusalem.