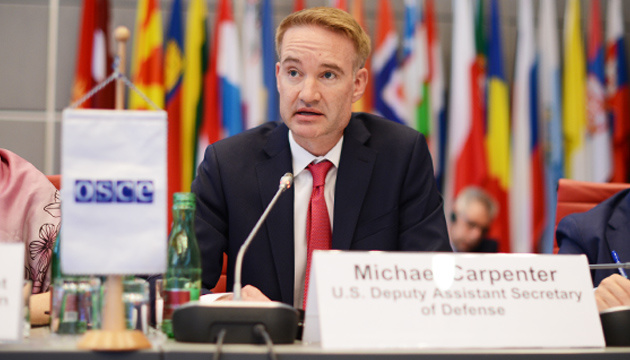 US at OSCE: Putin sees Ukraine and Belarus as part of his empire
Russian President Putin, like the dictators of the past, denies the existence of sovereign nations and sees Ukraine and Belarus as parts of imperial Russia.
"Kremlin's bid to deny Ukraine's existence as a state, seize its territory by force, and subjugate its people to the Kremlin's imperial rule is a threat to every single one of us, and not only to those who are Russia's neighbors," U.S. Permanent Representative to OSCE Michael Carpenter said at the OSCE Permanent Council meeting on Thursday, an Ukrinform correspondent reported.
According to him, Russia is trying to wipe out the sovereignty of an entire, independent nation.
Carpenter also noted that Russia's leadership has been rather transparent as to their views and aims for Ukraine.
"President Putin wrote: 'modern Ukraine was entirely created by Russia.' How many dictators in centuries past have denied the existence of sovereign nations in order to incorporate them into their empires? Well, this is exactly what Russia is trying to do with Ukraine today. And although we do not speak about it as often here, that is exactly what it is trying to do with independent Belarus as well. President Putin has made clear he views both nations as mere regions that 'belong' to Russia," the U.S. Ambassador said.
He pointed out that Russia's leadership has openly and repeatedly professed the belief that Ukrainian and Belarusian identity do not exist outside of Russian culture. In his propagandistic article published last year, president Putin simply denied that these nations have separate histories, cultures, languages, and identities that are not Russian.
As noted, understanding Putin's language and view of Ukraine and its people is essential to understanding the brutal conduct of Russia's forces in Ukraine. "This thinking empowers the Kremlin to dismiss the significance of the thousands of Ukrainian civilians, including children that have been killed by Russia's forces since its full-scale invasion 11 months ago. It is this thinking that empowers Moscow to attempt to justify its deporting thousands of Ukrainian children to Russia. And this thinking leads Russia's forces to act in the barbaric ways we have witnessed in Ukraine, with over 60,000 reports of war crimes," the U.S. diplomat stressed.
He said that the United States "flatly rejects Russia's efforts to dismiss and repress Ukraine's distinct culture, history, and statehood."
"Ukraine is a sovereign, independent nation and we are committed to ensuring it remains so. We also strongly support the sovereignty and independence of Belarus, which has a proud history and its own rich culture as well," Carpenter said.
ol