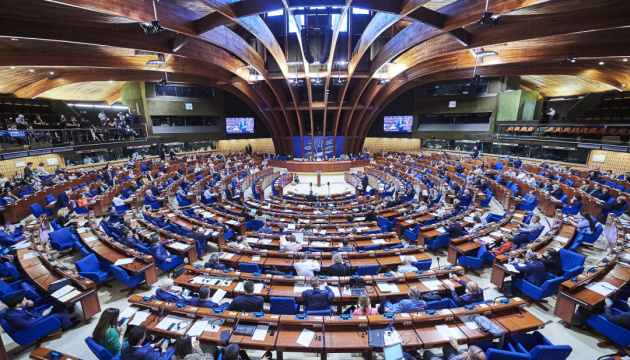 PACE recognizes that Russia started war against Ukraine in 2014
The Parliamentary Assembly of the Council of Europe (PACE) has endorsed a resolution, recognizing that the Russian Federation has waged a war of aggression against Ukraine since February 2014.
The relevant resolution, entitled 'Conflict-related sexual violence', was endorsed during the PACE's Winter Session 2023 in Strasbourg on Tuesday, an Ukrinform correspondent reports.
"Since February 2014, the Russian Federation has waged a war of aggression against Ukraine, which it relaunched on 24 February 2022 with a massive invasion of Ukraine," the document reads.
Additionally, the resolution noted that Russian armed aggression "led to mass conflict-related sexual violence committed by the Russian Federation's armed forces and by affiliated armed groups against the civilian population of Ukraine and Ukrainian prisoners of war".
According to the Ukrainian Prosecutor General's Office, over 11 months since the Russian invasion started, 155 cases of conflict-related sexual violence have been recorded in Kyiv, Kherson, Kharkiv, Chernihiv, Donetsk, Zaporizhzhia, Luhansk, and Mykolaiv regions.
"The officially stated number of cases does not reflect the scale of crimes of the Russian Federation, which are much larger," the document added.
The PACE congratulated Estonia, Germany, Latvia, Lithuania, Norway, Poland, Romania, the Slovak Republic, Spain, Sweden and Switzerland for having initiated universal jurisdiction investigations of war crimes in the context of the Russian war of aggression against Ukraine, or for having declared their intention to do so.
The resolution also urged Member States to provide concrete expert and technical support, with the Assembly and the Council of Europe, for the setting up of a special (ad hoc) international tribunal to prosecute the crime of aggression against Ukraine "as conflict-related sexual violence is a result of this crime of aggression".
The voting was 122 in favor and four abstentions.
mk