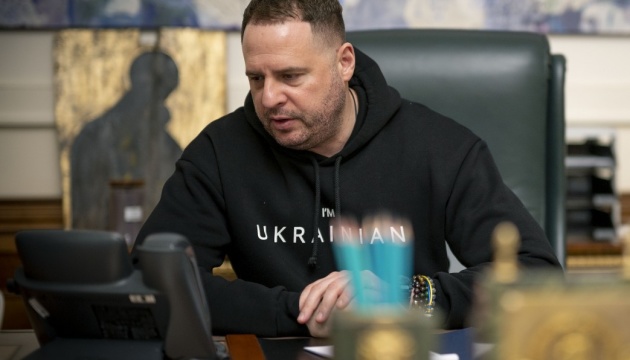 Yermak, Sullivan discuss situation on frontline, sanctions, Ukraine's energy security
Head of the Office of the President of Ukraine Andriy Yermak had a phone call with U.S. President's National Security Advisor Jake Sullivan.
"Andriy Yermak briefed Jake Sullivan on the current situation on the frontline and the tasks facing the Ukrainian Defense Forces. The importance of providing the Ukrainian army with weapons and equipment to effectively respond to the aggressor's actions was emphasized," the President's Office informs.
The parties also considered the issue of strengthening the protection of critical infrastructure and ensuring Ukraine's energy security.
Yermak and Sullivan discussed the continuation of sanction pressure on the aggressor state. The Head of the President's Office outlined Ukraine's intention to hold a summit on sanctions in February.
President Volodymyr Zelensky's efforts to achieve a just peace through the proposed 10-step Peace Formula were also touched upon
The Head of the President's Office expressed gratitude to President Joseph Biden, both chambers of the U.S. Congress, and the entire American people for their strong support of Ukraine in the struggle for freedom, sovereignty, and the restoration of peace in the whole of Europe.
Photo: President's Office
ol