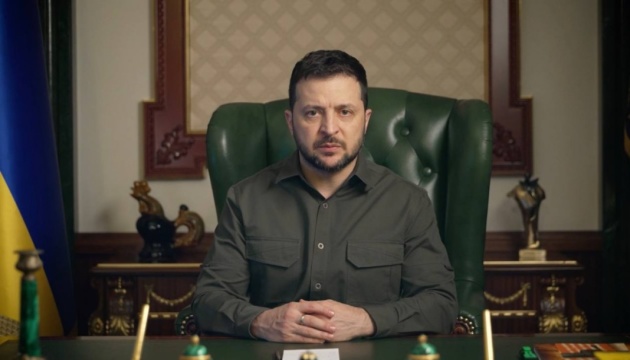 Speaking at WEF, Zelensky urges the world to quickly implement Peace Formula
The civilized world must respond more quickly to challenges, including Russian aggression against Ukraine, and this also involves the rapid implementation of Ukraine's Peace Formula.
"The list of calls for decisive, efficient joint actions needs to be expanded with one more: the call for speed. The speed of decision-making. Reaction of the civilized world," President of Ukraine Volodymyr Zelensky said addressing the World Economic Forum in Davos via video link on Wednesday.
He noted that the world was hesitant in 2014 when Russia without hesitation occupied Crimea. The world was hesitant in 2022 when Russia without hesitation made the war full-scale. "The world must not hesitate today and ever. When the evil seeks revanche, the world needs resolve and speed," the President of Ukraine stressed.
In this context, Zelensky called on the civilized world to quickly implement the 10-point Peace Formula.
"Ukraine offers the world a Peace Formula. Ten steps that the world must make faster than Russia makes its new moves. Mobilization of the world must outpace the next military mobilization of our joint enemy. Supplying Ukraine with air defense systems must outpace Russia's next missile attacks. The supplies of Western tanks must outpace another invasion of Russian tanks. The restoration of security and peace in Ukraine must outpace Russia's attack on security and peace in other countries… The expansion of NATO and the EU must outgo the spread of Russian aggression," Zelensky said.
The President of Ukraine noted that history repeats itself: at first, the world either fails to notice or underestimates a threat, then it unites to resist it, and then the world wins. According to him, this time the world will overcome the threat posed by Putin's Russia.
"The world will overcome again. The time is high to make it happen faster," Zelensky stressed.
As reported, addressing the G20 summit participants on November 15, President Volodymyr Zelensky proposed a peace formula and outlined 10 mandatory conditions for ending the war in Ukraine. In particular, he mentioned radiation, nuclear, food, and energy security, release of all prisoners and deportees, implementation of the UN Charter and restoration of the territorial integrity of Ukraine and the world order, withdrawal of Russian troops and cessation of hostilities, restoration of justice, fight against ecocide, prevention of escalation, consolidation of the end of the war.
ol