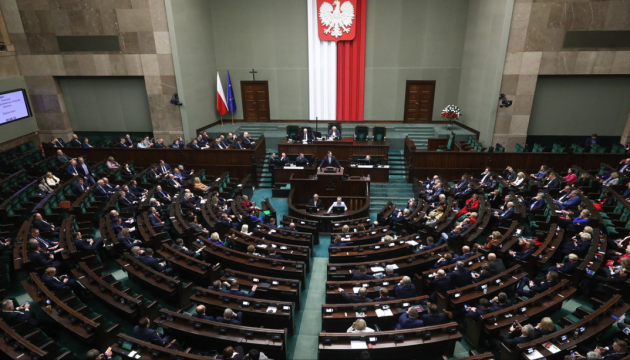 Poland's Sejm recognizes Russia as state sponsor of terrorism
The lower house of the Polish parliament on Wednesday night adopted a resolution branding Russia a state sponsor of terrorism.
The deputies of the pro-government majority supported the resolution draft, reports an Ukrinform correspondent.
"The Sejm of Poland recognizes the Russian Federation as a state sponsor of terrorism that applies the tools of terror," the resolution reads.
It emphasizes that Russia systematically violates human rights, international law, UN regulations, and a number of other international obligations, wages aggression on the territory of other countries, war crimes and genocides, and also carries out hostile actions of an economic nature, in particular in the field of energy. It is emphasized that altering borders by force is a crime against peace.
"The forms of terror that Russia uses against Ukrainian citizens are crimes against humanity and genocide," the document emphasizes.
It draws attention to the fact that Russian armed forces are committing terrorist attacks in Ukraine, carrying out mass executions, abductions, sexual abuse and torture; children are separated from their families in order to be russified them; citizens of Ukraine are forcibly mobilized into the Russian army; property of Ukrainians is being looted. Attention is drawn to the fact that Russia violates the Geneva Convention on the Treatment of Prisoners of War.
The Sejm of Poland emphasizes that by blocking sea ports and communications with Ukraine by sea, Russia engages in sea piracy.
"By burning and looting Ukrainian lands, not allowing Ukraine to export agricultural products for a long time, Russia brought the threat of famine to many countries in Africa and Asia," the resolution reads. It adds that Russia exploits Ukrainian nuclear power plants to blackmail Ukrainians and the international community.
The resolution was adopted by the votes of the Law and Justice (PiS) ruling party. None of the opposition factions voted, although this does not mean that they are against recognizing Russia as a terrorist state. Most of them decided not to vote because of the PiS amendment to the resolution regarding the imposition of responsibility on Russia for the downing of MH17 in July 2014 over the occupied territory of Ukraine and the plane carrying the then-President Lech Kaczynski in April 2010 near Smolensk. As is known, the ruling PiS party in Poland holds the opposition jointly responsible with the Russians for the Smolensk disaster.
As Ukrinform reported earlier, the Senate of Poland late October recognized Russian authorities as a terrorist regime.
Photo: PAP/Tomasz Gzell