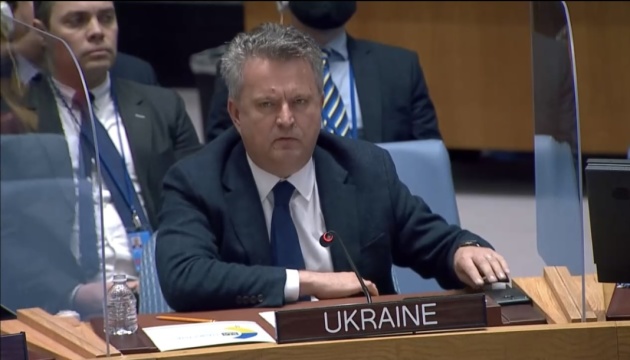 Deputinization, denuclearization of Russia is needed after its imminent defeat - Kyslytsya
The deputinization and denuclearization of Russia is needed after its imminent military defeat, Ukraine's Permanent Representative to the UN, Sergiy Kyslytsya, has said.
According to Ukrinform's foreign correspondent in New York, Kyslytsya said this on Tuesday at a meeting of the UN Security Council on the humanitarian situation in Ukraine related to the Russian war.
"By marking the anniversary of the Budapest Memorandum with a missile strike on Ukraine [on December 5], the Kremlin finally showed that it has no moral or legal grounds for possessing nuclear weapons," Kyslytsya said.
According to him, the post-Soviet transformation in Russia under President Boris Yeltsin was not underpinned by decommunization and the dismantling of the authoritarian style of leadership, "and thus led to Putinism instead of democracy."
The lessons of history must be learned this time in order not to let the tragedies be repeated again, he added. Already now, the international community must start "considering the modalities of post-Putin arrangements with Moscow," he said. "Arrangements that should include a new Budapest memorandum to be signed by Moscow in the context of its denuclearization," Kyslytsya said.
"It is still to be seen how soon after its military defeat and by whom this document could be signed on behalf of the territory with the administrative center in Moscow. Such an arrangement would require credible counterparts, and neither Putin nor any of his cronies can be considered trustworthy," he said.
He noted that Ukraine is not resisting peace talks, but it is resisting "Moscow's attempts to erase us from the map." Ukraine is also resisting Russia's strategy to buy time under the guise of "peace efforts" to replenish its military arsenal, build strongholds in the occupied territories and prepare for a new attack, Kyslytsya said.