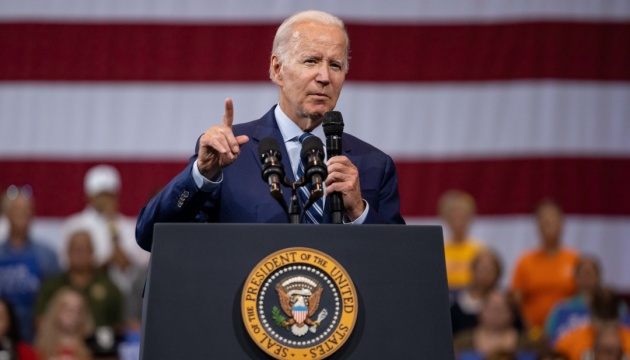 U.S. explains position on possibility of talks with Russia
U.S. President Joe Biden will be ready to meet with his Russian counterpart Vladimir Putin for talks regarding peace in Ukraine, provided that the Russian Federation demonstrates readiness to end the war, and if diplomacy on the said issue will involve Ukraine and NATO.
This is how U.S. State Department spokesman Ned Price explained the current position of the United States, Ukrinform's own correspondent reported from a briefing on Friday.
"What the President said yesterday is that if President Putin is ready to end this war in Ukraine, we're prepared to engage in diplomacy, including by potentially speaking with President Putin," Price told journalists.
He emphasized that the United States would do this in close coordination with NATO allies and Ukraine.
"Nothing about Ukraine without Ukraine," he said, reaffirming the principle the American side is guided by in any negotiations on the Ukraine issue.
Price separately emphasized that the United States would never recognize Russia's attempts to illegally annex the Ukrainian territories it occupied after 2014.
At the same time, according to the spokesman, Russia is now making it very clear that it is "not in the mood for constructive dialogue and for constructive diplomacy." This was confirmed by the Kremlin's latest comments and actions of the Russian forces in recent weeks.
"So, together with our partners and our allies, we're focused on holding Russia accountable for their actions, on supporting Ukraine as they defend themselves against this Russian aggression, and on militating the impacts of President Putin's war on the rest of the world," he noted.
As Ukrinform reported earlier, during a meeting on Thursday with the President of France in Washington, the chief of the White House, Joe Biden, said that he would be open to possible negotiations with Putin if the Russian leader were serious about ending the war against Ukraine.