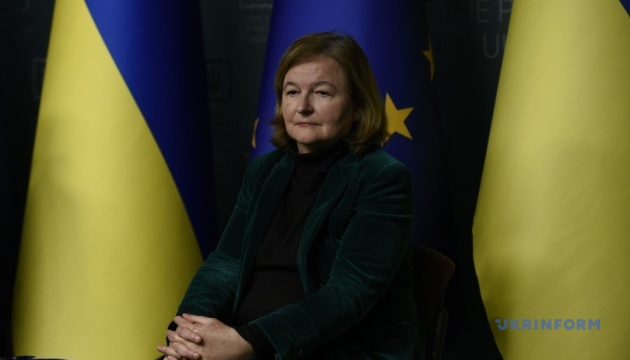 SEDE Chair: No one can say that Ukraine does not want peace
No one can say that Ukraine does not want peace after Ukrainian President Volodymyr Zelensky announced the Kyiv Security Compact, consisting of ten clauses.
The relevant statement was made by Chair of the European Parliament Subcommitee on Security and Defence (SEDE) Nathalie Loiseau during a press conference in Kyiv, an Ukrinform correspondent reports.
Loiseau noted that the delegation of the European Parliament had arrived in Kyiv to express solidarity and support for the people of Ukraine and discuss the key initiatives proposed by the Ukrainian authorities, namely the Kyiv Security Compact.
According to Loiseau, it is great that, despite facing the consequences of the war, Ukraine is ready to explain its 'peace formula' and the way it will be implemented.
The members of the delegation sent a clear signal that the European Parliament continues to support establishing a Special Tribunal to investigate and prosecute Russia's crime of aggression.
Additionally, Loiseau mentioned that, during a meeting with the Head of the Office of the President of Ukraine, they discussed military aid for Ukraine, increased assistance in the restoration of energy infrastructure, and support for Ukraine in terms of sanctions against Russia.
Loiseau stressed that the next sanctions package will be promoted as soon as possible, as Ukraine is fighting not only for its own independence and sovereignty but for European values and security.
mk