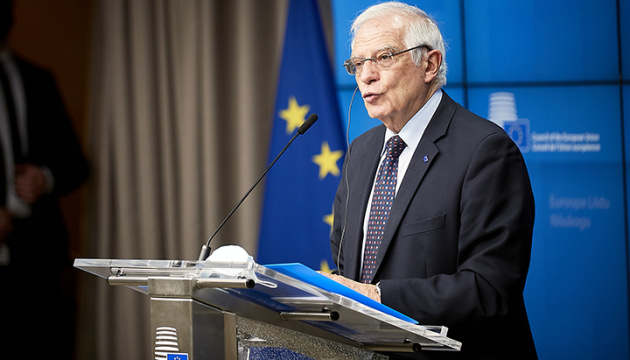 Borrell: EU will help Ukraine pass winter without electricity
EU leaders will discuss measures to further help Ukraine prepare for a winter of power shortages as Russian invaders continue to destroy Ukraine's critical civilian infrastructure.
"Putin continues bombing Ukraine. Putin continues trying to make Ukraine a black hole – no light, no electricity, no heating -, to put Ukrainians into the darkness and the cold. So, we have to continue our support, providing more material for the Ukrainians to face the winter without electricity. It means a lot of things: from electricity appliances, to everything that is needed to pass the winter without electricity. It is difficult to imagine, but it is what is going to happen. So, today also, we will look at the Ukrainian war from the point of view of the humanitarian crisis," EU High Representative for Foreign Affairs and Security Policy Josep Borrell said ahead of the Foreign Affairs Ministers Council meeting in Brussels, an Ukrinform correspondent reports.
At the meeting, the ministers will consider the situation in Ukraine and Afghanistan, but the main focus of the discussion will be on the situation in Africa and the development of the EU–African Union relations.
Russia continues shelling Ukrainian cities, towns, and villages. The enemy kills civilians and destroys critical energy infrastructure. The EU, using the Civil Protection Mechanism, began to provide assistance to Ukraine, including power generators, equipment for repairing and restoring power networks, insulated tents, sleeping bags and other humanitarian aid.
ol