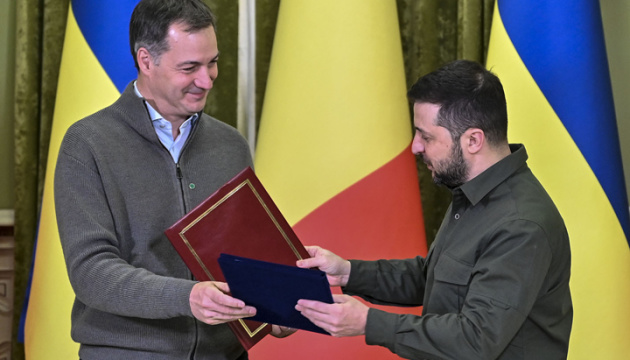 Belgium supports Ukraine's movement towards EU, NATO membership
Ukrainian President Volodymyr Zelensky and Belgian Prime Minister Alexander De Croo have signed a joint declaration of support for Ukraine's movement towards EU and NATO membership.
The declaration was signed in Kyiv on Saturday, November 26, according to an Ukrinform correspondent.
"I thank Belgium, Mr. Prime Minister, for the joint declaration signed today. This document certifies Belgium's support for our movement towards full membership in the European Union and NATO. We will definitely achieve this important result for us," Zelensky said during the signing of the document.
During the meeting, both parties discussed a number of issues, including international cooperation, defense support, the need to strengthen sanctions against Russia and problems with the destabilization of global relations.
"We appreciate that Belgium is the leader in the amount of frozen Russian assets - 50 billion euros, even more. It is important that the assets of the terrorist state be used to compensate for the damage caused by the terror. We have to do everything to make it happen as soon as possible," Zelensky said.
A number of issues were also discussed during the negotiations, including the state of Ukraine's energy system after Russia's terrorist missile attacks and Ukraine's need for appropriate support for reconstruction.
"Belgium is ready to provide the necessary power generators and other equipment that is now vital for our society, for Ukraine as a whole," Zelensky said.
In addition, both parties discussed interaction within the United Nations, EU agencies and at other international levels.
Zelensky thanked De Croo for the military aid already provided to Ukraine and called for its expansion. Assistance in demining was also discussed at the meeting.
Belgian Prime Minister Alexander De Croo arrived in Ukraine on November 26.