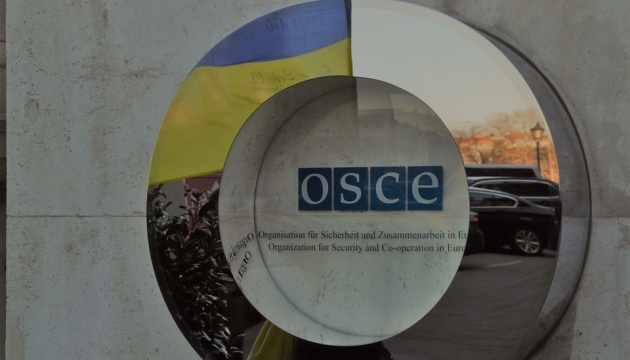 Ukraine to boycott OSCE PA due to Russia's participation
The Ukrainian delegation will boycott the OSCE due to the organization's inability to either exclude or suspend the powers of the aggressor power's delegation.
This was stated by the head of the Verkhovna Rada delegation to the OSCE Parliamentary Assembly, Mykyta Poturaev, who spoke at the Assembly meeting in Warsaw on Friday, Ukrinform reports.
"Today in Warsaw, the Standing Committee of the OSCE Parliamentary Assembly failed to decide on the further fate of Russians in this international organization. Since the decision wasn't made, since no decision was made to at least suspend the powers of the Russian delegation in the OSCE Parliamentary Assembly, the Ukrainian delegation decided to boycott Ukraine's work in this international organization until a solution is found," Poturaev stressed.
He added that the Ukrainian delegation was also supported by the representatives of Estonia and Lithuania who attended the meeting and left it in a sign of protest.
According to the head of the Ukrainian delegation, Ukraine will return to participation in the OSCE PA only after a decision on the future fate of the Russians, who represent a terrorist state, "will finally be found."
As Ukrinform reported earlier, the day before during his speech at the OSCE PA, Poturaev stated that the body should suspend the membership of the Russian delegation as it is representing an aggressor state, otherwise Ukraine will consider the possibility of suspending its membership in this inter-parliamentary organization.
Marshal of the Senate of Poland Tomasz Grodzki in a comment to Ukrinform said that the call of the Ukrainian delegates is "understandable". At the same time, he noted that excluding Russia from the OSCE PA at this stage "is not an easy task."
Grodzki noted that according to the current regulations, in order to exclude a country, there must be a consensus of votes minus one, that is, all must be "for" and no more than one "against". Instead, in the case of Russia, two countries would be against it – Russia and Belarus. He emphasized that it is necessary to find a way to throw Russia out of the OSCE "because the organization, which has "security and cooperation in Europe" in its name, must not tolerate among its members a country that attacks a free, civilized country."
As reported, earlier Poland refused to issue visas to the Russian delegation to the OSCE PA, as well as to the head of the Russian Ministry of Foreign Affairs, Sergey Lavrov, for the OSCE ministerial meeting, which will be held in Lodz on February 1-2.
Since February 24, Russia has been waging a full-scale war against Ukraine.