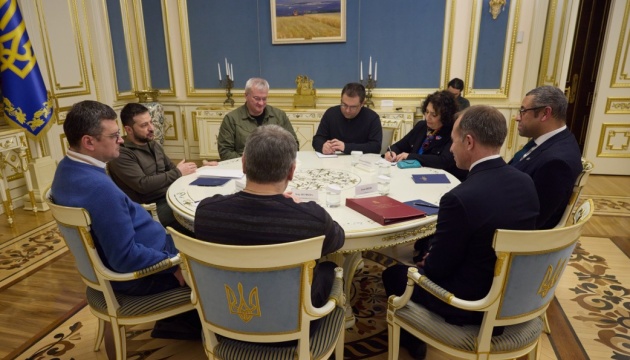 Ukraine, UK foreign ministers: Russia not looking for peace now
Russia is now looking not for peace but for respite to continue aggression with new forces.
Minister of Foreign Affairs of Ukraine Dmytro Kuleba and British Foreign Secretary James Cleverly made a corresponding statement at a joint briefing in Kyiv, an Ukrinform correspondent reports.
"Today, international support for Ukraine is greater than at any time in history. A Ukrainian victory will be a victory for the entire democratic world. Recently, the mass media claim that the partners are allegedly pushing Ukraine to premature negotiations with Russia. It is important to note – and James and I completely agree on this – that Russia is not looking for peace right now. It is looking for respite to continue the aggression and destruction of Ukraine and Ukrainians with new forces," Kuleba said.
The foreign ministers share a common firm position that Russia will not succeed in dividing or undermining the democratic world and will not succeed in weakening support for Ukraine. According to Kuleba, James Cleverly once again confirmed that Britain will support Ukraine as long as it takes, and the negotiations will be held exclusively on Ukrainian terms and when Ukraine decides.
"Of course, it is clear to everyone that Vladimir Putin is trying to take advantage of winter by continuing brutal attacks on Ukraine's energy infrastructure to worsen the humanitarian crisis in Ukraine, but today I saw the strength and resilience of the Ukrainian people and the Ukrainian government. I have no doubt that Ukraine will continue to defend itself against this unprovoked aggression," the British Foreign Secretary said.
Minister of Foreign Affairs of Ukraine Dmytro Kuleba and British Foreign Secretary James Cleverly discussed the urgent needs for air defense and restoration of energy supply of Ukraine.
"We continue to work intensively on strengthening all strategic directions of cooperation with the United Kingdom and consolidating the international community in support of Ukraine. Today, of course, we discussed in detail the consequences of Russian terror against our state, and the Secretary had the opportunity to see them with his own eyes in the Ukrainian capital," Kuleba said.
The minister informed that the parties discussed the urgent need to create an air shield over Ukraine and restore energy supply after Russian shelling, as well as further international initiatives to support Ukraine and, in particular, interaction with the countries of the so-called Global South.
Cleverly, for his part, noted that Great Britain will help Ukraine this winter and will also help with reconstruction in the long term.
The Secretary announced that the UK is allocating GBP 5 million to help the Ukrainian initiative for sending ships with grain to Ethiopia, Sudan and other countries which experience significant problems with food products.
As reported, British Foreign Secretary James Cleverly arrived in Kyiv to meet with Ukraine's leadership and announced a new assistance package. It will include £3m in funding to help with the rebuilding of infrastructure, such as schools and shelters, that has been destroyed since the start of the war. The funds will also be used to support survivors of sexual assault.
Moreover, Britain will send ambulances, a further 11 emergency vehicles, including six armoured vehicles, to Ukraine.
The British Foreign Secretary arrived following Prime Minister Rishi Sunak's visit to Kyiv on Saturday.
ol