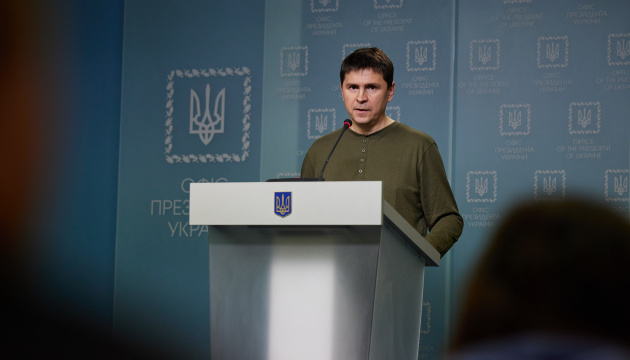 Attempts to persuade Ukraine to negotiate with Russia amount to asking for capitulation – Podolyak
Negotiations with Moscow would be equal to capitulation now, and some calls from the West to start talks with Russia after a series of Ukraine's victories look 'bizarre'.
The relevant statement was made by Advisor to the Head of the Office of the President of Ukraine Mykhailo Podolyak in an interview with AFP, an Ukrinform correspondent reports, referring to France 24.
"When you have the initiative on the battlefield, it's slightly bizarre to receive proposals like: 'you will not be able to do everything by military means anyway, you need to negotiate'," Podolyak said.
In his words, this would mean that the country "that recovers its territories, must capitulate to the country that is losing".
According to Podolyak, the Russian side has not made "any direct proposal" to Kyiv for peace talks, preferring to transmit them through intermediaries and even raising the possibility of a ceasefire. Ukraine sees such talk as mere maneuvering by the Kremlin to win some respite on the ground and prepare a new offensive.
"Russia doesn't want negotiations. Russia is conducting a communication campaign called 'negotiations'. […] It will simply stall for time. In the meantime, it will train its mobilised forces, find additional weapons and fortify its positions," Podolyak stressed.
Meanwhile, Ukraine can "afford no pause" in its counter-offensive, despite the arrival of winter cold and snow that make the situation on the ground more difficult.
According to Podolyak, despite Russia's heavy military defeats in recent weeks, Putin still thinks he can destroy Ukraine. This is his "obsession" and, thus, peace talks with him make no sense.
In Podolyak's opinion, Ukraine's partners believe it is possible to return to the pre-war era, where Russia was a reliable partner.
Instead, Ukrainian authorities are calling for increased arms supplies from the West to bring the end of the war closer.
"We still need 150 to 200 tanks, about 300 armoured vehicles, a hundred artillery systems, 50-70 multiple rocket launcher systems, including the formidable American HIMARS, of which Ukraine already has several units, as well as 10 to 15 anti-aircraft defence systems to close the sky," Podolyak explained.
Podolyak also mentioned U.S. ATACMS missiles, which have a range of 300 kilometres (185 miles). The range of the weapons currently available to Ukraine barely exceeds 80 kilometres.
Such missiles would allow Ukrainian forces to destroy large Russian military depots located deep in the occupied areas, which are currently inaccessible. At the same time, Ukraine has no need to attack military targets inside Russia, Podolyak added.
In his words, the war will end when Ukraine regains control of its borders and "when Russia is afraid of Ukraine".
mk