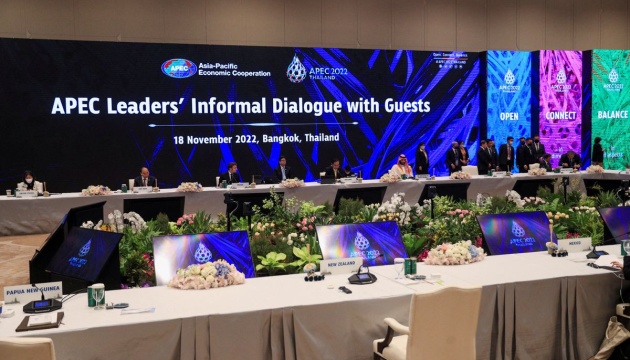 APEC condemns Russian armed aggression against Ukraine
The participants in the Asia-Pacific Economic Cooperation (APEC) Economic Leaders' Meeting have deplored in the strongest terms the aggression by the Russian Federation against Ukraine and demanded that Russian troops be completely and unconditionally withdrawn from the territory of Ukraine.
The relevant statement was made in the 2022 APEC Leaders' Declaration, endorsed in Bangkok on Saturday, an Ukrinform correspondent reports.
"Most members strongly condemned the war in Ukraine and stressed it is causing immense human suffering and exacerbating existing fragilities in the global economy – constraining growth, increasing inflation, disrupting supply chains, heightening energy and food insecurity, and elevating financial stability risks," the document reads.
However, according to the Declaration, there were "other views and different assessments of the situation and sanctions".
"Recognising that APEC is not the forum to resolve security issues, we acknowledge that security issues can have significant consequences for the global economy," the APEC Leaders' Declaration noted.
The APEC Leaders stressed they were determined to uphold and further strengthen the rules-based multilateral trading system but, at the same time, recognised that more intensive efforts were needed to address today's challenges, including climate change, extreme weather and natural disasters.
mk