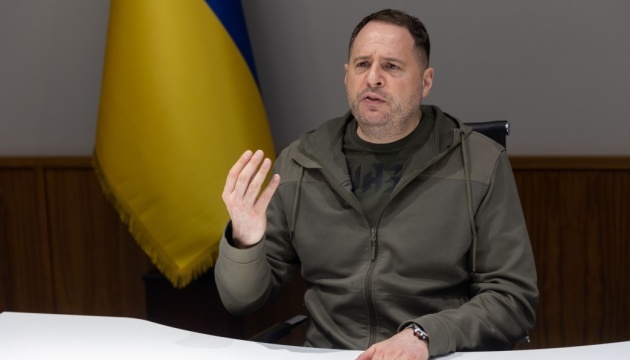 Yermak, Dumont discuss security guarantees for Ukraine, tribunal for Russia
Head of the Office of the President of Ukraine Andriy Yermak has met with Continental Europe and Turkey Adviser to the President of France Isabelle Dumont. The parties discussed security guarantees for Ukraine, as well as the situation in the energy sector and a special tribunal for Russia.
The relevant statement was made by the Office of the President of Ukraine, an Ukrinform correspondent reports.
In particular, Yermak briefed Dumont on the critical damage caused to Ukraine's energy infrastructure due to Russian massive missile attacks.
Yermak thanked the French side for the humanitarian assistance provided and their willingness to respond to Ukraine's requests for equipment needed to restore the damaged energy sector.
The parties continued discussing the modalities of the implementation of proposals regarding international security guarantees for Ukraine based on the Kyiv Security Compact. According to the Office of the President of Ukraine, special attention was paid to the creation of a modern, highly effective anti-aircraft and anti-missile defense system.
Yermak and Dumont considered cooperation in establishing a special tribunal over Russia's crime of aggression against Ukraine. Yermak told the French side about Ukraine's progress in the preparation of the relevant draft resolution of the UN General Assembly and coordinated further actions with France to ensure support for this document during the vote.
Additionally, the Head of the Office of the President of Ukraine noted Ukraine's consistent efforts to continue the Black Sea Grain Initiative and the new program, Grain from Ukraine, intended to help the poorest countries in Africa, which is expected to be officially launched on November 26. Yermak expressed hope for France's active practical involvement in the implementation of this important humanitarian project.
The parties also discussed preparations for holding a forum on Ukraine reconstruction and a conference to build support for the country's civilians throughout winter in Paris on December 13, 2022.
Photo: Office of the President of Ukraine
mk