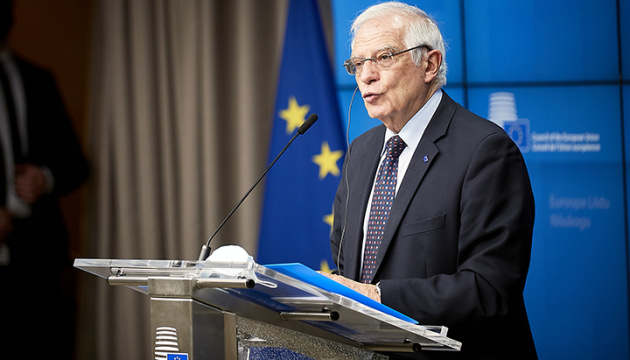 Borrell: Russia must accept its responsibility in MH17 tragedy, court verdict is first step
EU High Representative for Foreign Affairs and Security Police Josep Borrell has said that all the circumstances of the downing of Malaysia Airlines Flight MH17 over the occupied territory of Donbas must be investigated and called the Dutch court verdict in this case "an important first step on the path of truth and accountability."
He said this in a statement published on the website of the European External Action Service, Ukrinform reports.
"The European Union has repeatedly asked for a swift clarification of the circumstances and for an international investigation to shed full light on this tragedy. We have been equally consistent in condemning such acts of violence threatening the safety of civil aviation, which are grave violations of international peace and security. Today's [November 17] verdict is an important first step on the path of truth and accountability," the statement said.
According to Borrell, the criminal investigation into the involvement of other individuals is still ongoing, just like the proceedings against the Russian state at the European Court for Human Rights and at the International Civil Aviation Organization.
"The EU reiterates its call on Russia to accept its responsibility in this tragedy and cooperate fully with the ongoing investigations," the statement said.
A former FSB operative, former "Minister of Defense of the DPR" Igor Girkin (aka Strelkov), General, at the time of the downing Colonel of the GRU of the General Staff of the Russian Armed Forces, head of the "GRU of the DPR" Sergei Dubinsky, and Ukrainian citizen Leonid Kharchenko were found guilty of shooting down flight MH17 and sentenced to life imprisonment. The fourth suspect, Russian national, Lieutenant Colonel of the GRU, Oleg Pulatov, was acquitted.
Malaysia Airlines Flight MH17, en route from Amsterdam to Kuala Lumpur, was shot down over an occupied area of the Donetsk region on July 17, 2014. There were 283 passengers and 15 crew members on board. All of them died.
The international Joint Investigation Team reported that the plane had been shot down from a Buk missile system that belonged to the 53rd Anti-Aircraft Missile Brigade of the Russian Armed Forces stationed in Kursk.
Photo: EPA