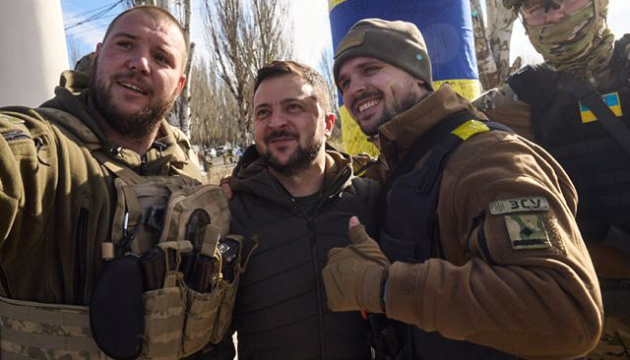 In Kherson, Zelensky meets with troops, takes part in flag-raising ceremony
President Volodymyr Zelensky met with the Ukrainian troops in Kherson and took part in the official ceremony of raising the Ukrainian national flag.
The head of state published on Telegram a photo where he is seen alongside a group of Ukrainian defenders, Ukrinform reports.
The president presented state awards to Ukrainian soldiers.
Deputy Head of the President's Office Kyrylo Tymoshenko uploaded on social networks a video of the official raising of the State Flag in the center of Kherson with Zelensky's participation.
As reported by Ukrinform, President Volodymyr Zelensky visited Kherson on Monday, just hours after the city was liberated from the Russian invaders.
On November 11, the president announced that Ukraine was regaining control of the city.
On November 12, the President's Office informed that the head of the regional military administration, Yaroslav Yanushevych, National Police, and Security Service had already started their work in Kherson and the rest of the liberated region.
Kherson was captured by the Russians on March 2.