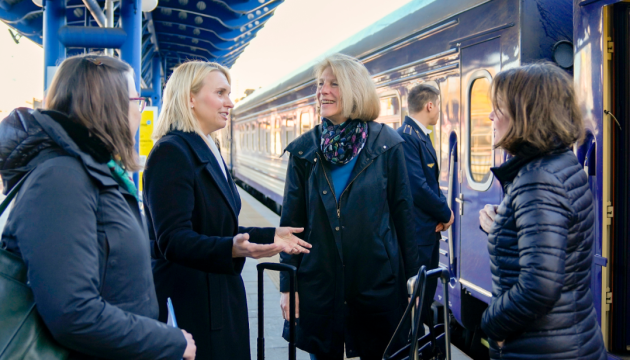 U.S. Assistant Secretary of State arrives in Kyiv
U.S. Assistant Secretary of State for European and Eurasian Affairs Karen Donfried arrived in Kyiv to discuss further support for Ukraine.
U.S. Ambassador to Ukraine Bridget Brink announced the news on Twitter, Ukrinform reports.
"Despite more Russian strikes on critical infrastructure, I welcomed Assistant Secretary Karen Donfried to Kyiv this morning to hear directly from Ukrainians how the United States can support Ukraine as it rebuilds and gains ground in the face of continued bombardment," Brink tweeted.
As reported earlier, on October 1, the U.S. government announced the upcoming transfer to Ukraine of eight NASAMS air defense systems. Two of them will be delivered shortly, the report said.
Since October 10, Russia has been massively attacking energy infrastructure facilities across Ukraine, launching missiles and swarms of one-way attack drones.
In the latest massive strike, more than 50 missiles were fired, of which Ukraine's air defenses downed 44.
Millions of household consumers and multiple enterprises have faced rolling blackouts due to destruction inflicted on energy infrastructure facilities across Ukraine.
Efforts to restore supplies are complicated by the need to import costly equipment. So far, at least 12 countries have agreed to supply or sell such equipment to Ukraine, according to Foreign Minister Dmytro Kuleba.