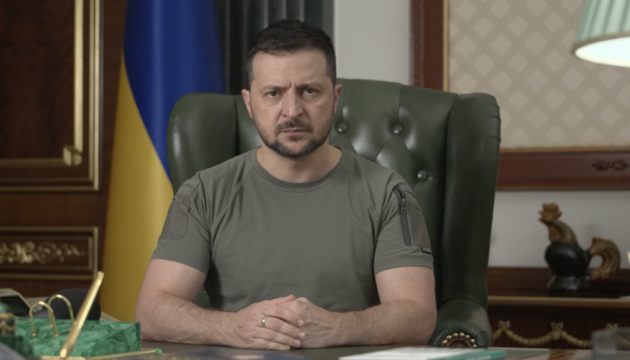 Zelensky: Russia began deliberately exacerbating food crisis back in September
Russia began to deliberately exacerbate the food crisis back in September when it blocked the movement of ships with Ukrainian foodstuffs.
"Today, a rather predictable statement came from Russia – a statement that they are finally canceling the grain export initiative. But in fact, this is not their decision today. Russia began deliberately aggravating the food crisis back in September, when it blocked the movement of ships with our food. From September to today, 176 vessels have already accumulated in the grain corridor, which cannot follow their route. Some grain carriers have been waiting for more than three weeks. This is an absolutely deliberate blockade by Russia. This is an absolutely transparent intention of Russia to return the threat of large-scale famine to Africa and Asia," President of Ukraine Volodymyr Zelensky said in his evening address.
Currently, more than 2 million tonnes of food are in the sea, he noted. This means that access to food has actually worsened for more than 7 million consumers.
"Algeria, Egypt, Yemen, Bangladesh, Vietnam, others countries – very different countries, from different parts of the world... But they can all be equally destabilized by this Russian decision to block exports. I emphasize: this decision was made by Russia apparently in September. This queue of ships with food at sea can testify to this," the President underscored.
He noted that Russia had attacked Ukraine's Naval Forces at least twice during the grain initiative operation, precisely those forces that guarantee the safety of the grain corridor. A strong international response is needed now, both at the UN level and at other levels, particularly, at the level of G20.
How can Russia be among the G20 if it is deliberately making efforts to bring starvation to several continents? This is nonsense. Russia has no place in the G20. All partners see this artificial queue of vessels. They see what Russia did to disrupt the grain initiative. They see that even ships with grain, which are contracted within the framework of the UN Food Program for the poorest countries, do not get a guaranteed opportunity to pass through the sea route. Russia is doing everything to ensure that millions of Africans, millions of residents of the Middle East and South Asia find themselves in conditions of artificial famine or at least a severe price crisis," the President stressed.
As reported, Russia accused Ukraine and Britain of "terrorist attacks against ships of the Black Sea Fleet and civilian vessels involved in guaranteeing the security of the grain corridor" and announced its withdrawal from the Black Sea Grain Initiative.
Minister of Foreign Affairs of Ukraine Dmytro Kuleba called on the international community not to allow Russia to block the grain corridor, which ensures food security for millions of people, under a false pretext.
On the morning of October 29, explosions rang out in temporarily occupied Sevastopol. Ukraine does not confirm its involvement.
ol