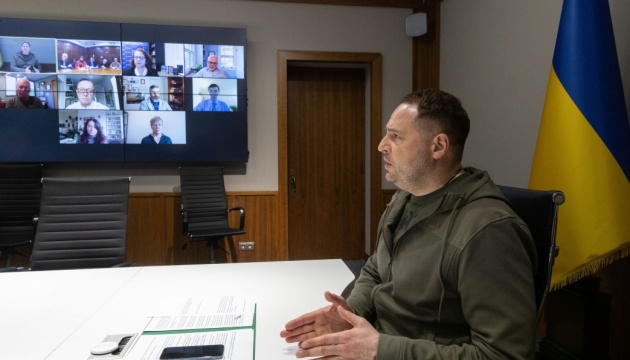 Yermak outlines five steps that world should take to support Ukraine and defeat Russia
Head of the Office of the President of Ukraine Andriy Yermak has outlined five steps that the world should take to support Ukraine and defeat Russia as the aggressor.
The relevant statement was made by Head of the Office of the President of Ukraine Andriy Yermak, while participating online in a roundtable organized by the U.S. Brookings Institution, an Ukrinform correspondent reports, referring to the Office of the President of Ukraine.
According to Yermak, the Ukrainian Army is liberating its native land from the occupiers step by step, while Russian troops are losing the initiative in the war. Being aware of the inevitability of defeat, the aggressor attacks peaceful Ukrainian cities, strikes civilian objects and attempts to destroy Ukraine's energy system.
"But, it must be understood: what is happening between Russia and Ukraine is not a conflict over territory. For Russia, this is a war of destruction. For us, this is a war for survival. And while they are trying to abolish us as a state and a nation, any agreements with Russia will be doomed. They will allow Moscow to regroup and accumulate resources to start al again. This has already happened many times," Yermak said.
In his words, it is necessary to enhance pressure on the aggressor and increase aid to Ukraine.
"It is in the interests of the whole world to minimize the Russian threat as much as possible. After all, Ukraine is not the only target of Russian aggression. This aggression is directed against the whole part of the world, which is used to living freely, comfortably and peacefully. Russia has blurred the line between peace and war. Russia has used everything as a weapon – from its own diasporas to mass media," Yermak noted.
According to him, artificial crises are also part of Russia's efforts in the war against the entire free world.
"The Kremlin's blackmail – both nuclear and manmade – is another attempt to get what it wants through negotiations. The response of the democratic world must be tough. And it should fully support Ukraine," Yermak added.
The Head of the Office of the President of Ukraine named five steps that should be taken to support Ukraine and defeat the aggressor. First of all, Yermak called on the world to help Ukraine in creating a reliable air and missile defense system to protect critical infrastructure and residential areas.
"Our children should go to school. Our people cannot listen to sirens in Kyiv and other cities of Ukraine all the time," Yermak said.
In his words, Ukrainians overcome difficulties every day with cooking, heating their homes, ensuring their safety during missile attacks both day and night. Having comfortable and well-furnished homes, people are forced to cook food on a stove, spend the night in sleeping bags in corridors or basements, and not in their own beds.
Yermak also called for providing conventional weapons for Ukraine without politically determined restrictions.
"Give us what we need and as much as we need. The timing of Ukraine's restoration of control over its entire territory depends on this," Yermak stressed.
In addition, the Head of the Office of the President of Ukraine called for a faster completion of the process of recognizing the Russian regime as terrorist and for further strengthening of sanctions pressure on Russia, introduction of effective secondary sanctions against those states and bodies that help it.
According to Yermak, it is also necessary to restart the entire range of international humanitarian organizations to fix their algorithms, which Russia has hacked. They should become an effective mechanism to protect and return home thousands of Ukrainian hostages of the Kremlin.
In this context, Yermak called for the provision of reliable security guarantees to Ukraine.
"Ukraine aspires to join NATO. But, unfortunately, it will not happen tomorrow. Therefore, for the transition period, we need our partners and allies to make every effort to help Ukraine realize its right to self-defense," Yermak noted, adding that the mechanism, which can ensure this, is the prepared initiative of the Kyiv Security Compact.
"It was often said that Russia should not win this war. It must be understood that the only way to avoid its repetition is to ensure Ukraine's victory. Any other option will encourage the Russian regime to continue," Yermak emphasized.
About 50 scientists, public figures and opinion leaders took part in the Brookings Institution roundtable. The meeting was moderated by Vice President, Director of Foreign Policy program of the Brookings Institution Suzanne Maloney.
Photo: Office of the President of Ukraine
mk