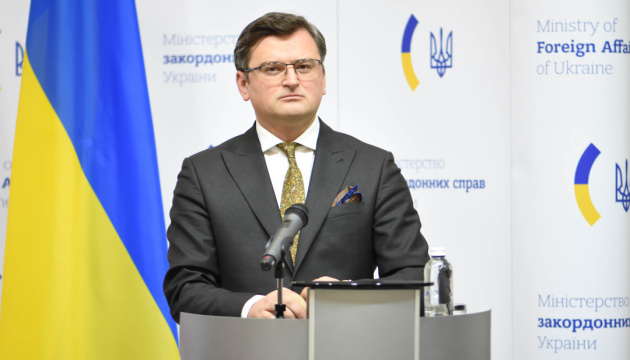 With nuclear blackmail, Putin attempts to make up for USSR's defeat in Caribbean Crisis – Kuleba
With nuclear blackmail, Russian President Vladimir Putin is trying to repeat the Caribbean Crisis and make up for the Soviet Union's defeat by pushing the United States into talks eventually.
The relevant statement was made by Ukrainian Foreign Affairs Minister Dmytro Kuleba, an Ukrinform correspondent reports.
"This whole story, among other things, is intended to spark a conversation. As Biden does not go into talks on his own, they are trying to provoke, drag him into this game, and demonstrate how Russia determines the fate of the world together with the United States, that is to take a level up themselves and force the Americans to go a level down," Kuleba said.
In his words, the 'dirty bomb' story will develop further, but Ukraine has managed to counteract the wave of suspicions in this regard.
According to Kuleba, Putin is repeating Khrushchev's 'crazy man' strategy during the Caribbean Crisis of 1962, i.e. keeping secret of how far he might be ready to go, while giving the impression of being willing to do absolutely unbelievable things.
"I think, to a significant extent, Putin is dreaming of making another Caribbean Crisis, winning it and making up for the Soviet Union's defeat in the original Caribbean Crisis," Kuleba noted, adding that the President of Russia is strongly attached to historical insecurities and images.
Kuleba also believes that the West is prepared for the nuclear option technologically but not mentally. However, the West does not consider refusing to support Ukraine in order to prevent that option.
Photo: Ukrainian Foreign Affairs Ministry
mk