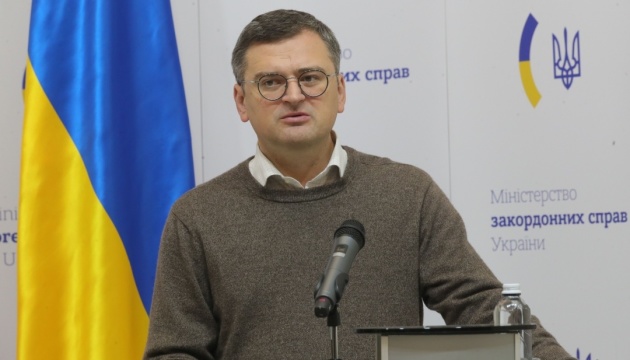 Kuleba calls on parliaments of all nations to recognize Holodomor as genocide of Ukrainians
Ukrainian Foreign Minister Dmytro Kuleba has called on the parliaments of all countries to support Ukraine and recognize the artificial Soviet Holodomor of 1932-1933 in Ukraine as genocide.
He said this in a video address posted on the Twitter account of the Ukrainian Foreign Ministry, Ukrinform reports.
FM: "On November 26th #Ukraine will honor the memory of millions of innocent victims of the #Holodomor genocide, 1932-1933 Soviet artificial famine in Ukraine. We call on parliaments of all nations to support Ukraine by recognizing the Holodomor as genocide of the #Ukrainians". pic.twitter.com/Gd7MHPAjda

— MFA of Ukraine 🇺🇦 (@MFA_Ukraine) October 28, 2022
Kuleba recalled that on November 26, Ukraine would honor the memory of millions of innocent victims of the Holodomor of 1932-1933.
He noted that 90 years ago, the Soviet regime led by Stalin used an artificial famine to starve millions of Ukrainians to death. This act of genocide was a horrible crime, because the Soviet authorities took all the food away from Ukrainian peasants and cordoned off starving villages with police and military, preventing starving people from fleeing to other places, Kuleba said.
"Millions of people died of hunger on fertile Ukrainian soil. By committing this genocide, Stalin wanted to destroy the Ukrainian people in order to solidify his totalitarian regime. We call on the parliaments of all nations to support Ukraine today by taking a simple political step and voting in favor of recognizing the Holodomor, Stalin's 1932-1933 artificial famine, as genocide of the Ukrainian people," the minister said.
He said that recognition of the Holodomor as genocide is of crucial importance especially now that Russia is committing another genocide against Ukrainians.
The minister noted that an unpunished evil grows stronger with time.
"We must punish evil for all previous and current crimes," Kuleba said.