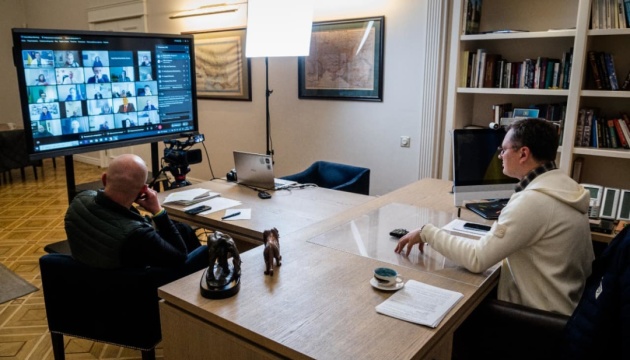 Kuleba discusses with ambassadors new tasks in energy, defense sectors
Minister for Foreign Affairs Dmytro Kuleba held an online meeting with Ukraine's ambassadors to discuss new tasks in the defense and energy sectors.
The head of Ukrainian diplomacy wrote this on Facebook, reports Ukrinform.
"President Zelensky has identified two key priorities for diplomats - weapons and energy. Today, I have gathered all ambassadors of Ukraine for an online meeting on these topics," Kuleba wrote.
The minister noted that since the full-scale war started, the Ministry for Foreign Affairs, together with the Office of the President, the Ministry of Defense, the Ministry of Infrastructure, the Main Directorate of Intelligence, the Foreign Intelligence Service, have been making efforts to obtain air defense systems, heavy weapons, armored vehicles, artillery, and ammunition for Ukraine.
"I invited the management of Ukroboronprom to the meeting. We will involve foreign partners in the development of the domestic defense industry. The idea is not only to attract foreign weapons, but also to significantly develop our own capabilities," Kuleba explained.
Among the tasks facing diplomats, the minister named the access to foreign technologies for the manufacture of Ukrainian weapons, development of repair and production potential, assistance to Ukroboronprom in developing international cooperation.
He assured that the diplomats will do everything they can to ensure that there are weapons at the front and electricity, heating and running water in the homes of Ukrainians.
iy