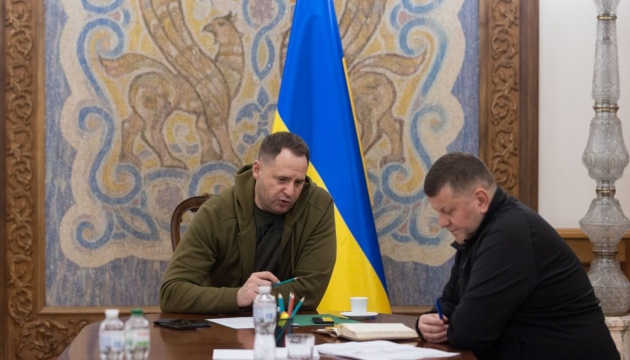 Zaluzhny, Yermak have phone call with British PM's national security adviser
Head of the President's Office Andriy Yermak and Commander-in-Chief of the Armed Forces of Ukraine Valeriy Zaluzhny had a phone talk with National Security Adviser to the British Prime Minister Timothy Barrow.
"Yermak highly praised the first telephone talks between President of Ukraine Volodymyr Zelensky and Prime Minister of the UK Rishi Sunak, which took place the day before. He said that during this talk, UK's course in support of Ukraine and the continued bilateral cooperation was confirmed," the press service of the President's Office informs.
The Head of the President's Office emphasized the absurdity of the Russian leadership's statements regarding Ukraine's alleged intentions to create a "dirty bomb." In view of this, Yermak said that our country is open to the visit of IAEA experts who will be able to testify to the groundlessness of such accusations.
He expressed his gratitude to the UK, which is providing significant political and defense support to Ukraine, and noted the systematic coordination of the parties' efforts in a wide range of issues.
In turn, Zaluzhny briefed Barrow on the operational situation at the front and thanked the British partners for helping the Ukrainian defenders during the repulse of Russian aggression.
ol