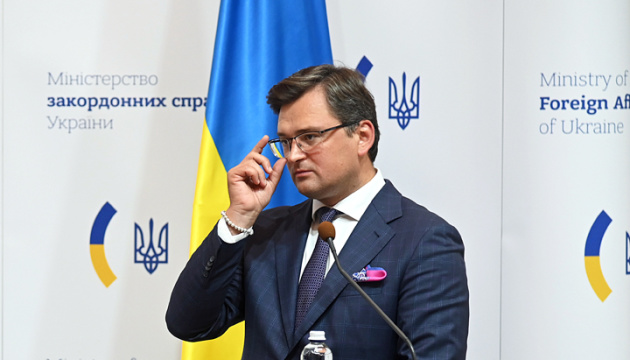 FM Kuleba suggests that diplomatic relations with Iran be severed
Ukrainian Foreign Affairs Minister Dmytro Kuleba has submitted a proposal to President of Ukraine Volodymyr Zelensky regarding the severance of diplomatic relations with Iran.
The relevant statement was made by Ukrainian Foreign Affairs Minister Dmytro Kuleba at a briefing, an Ukrinform correspondent reports.
"Considering the numerous destructions caused by Iranian drones to Ukraine's civil infrastructure, the deaths and sufferings caused to our people, as well as in connection with reports about the possible continuation of Iran's arms supplies to Russia, I am submitting a proposal to the President of Ukraine to severe diplomatic relations with Iran," Kuleba told.
In his words, Ukraine has never taken an anti-Iranian stance. But, after Iran became an accomplice to Russia's crime of aggression on Ukraine's territory, Kyiv will take a very clear and honest position now.
"If Iran stops to supply weapons for Russia, we will talk about the restoration of the whole range of relations," Kuleba noted.
According to Kuleba, Iran's actions are villainy and lies, which Ukraine will not tolerate, especially as such actions were taken by the Iranian side while telling Ukraine that they were against the war and would not provide military support to any of the parties. Tehran is fully responsible for the destruction of relations with Ukraine, Kuleba stressed.
Photo: Ukrainian Foreign Affairs Ministry
mk