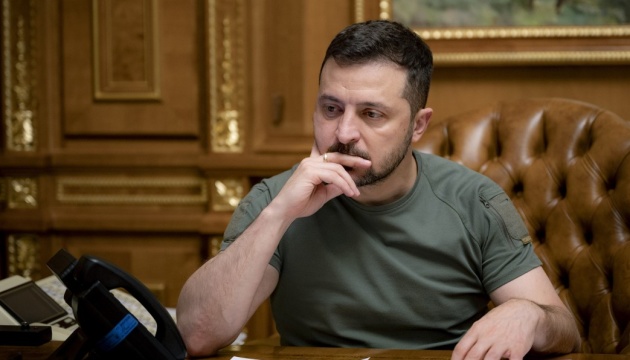 Zelensky invites Brothers of Italy party leader to visit Ukraine
Ukrainian President Volodymyr Zelensky and Giorgia Meloni, the leader of the Brothers of Italy party, have discussed the importance of supporting Ukraine after the formation of the new Italian government, the issue of sanctions against Russia, and a ban on issuing tourist visas to Russians.
That's according to the press service of the Ukrainian president, Ukrinform reports.
According to the statement, the main topics of the negotiations were the gradual development of bilateral relations, assistance to Ukraine from Italy and the need for a strong reaction of the international community to the new criminal actions of the Russian aggressor against the sovereignty and territorial integrity of Ukraine.
"Russia's decisions regarding another attempt to annex part of Ukrainian territory are null and void and do not change reality. A repeat of the Crimean scenario cannot be allowed. The territorial integrity of Ukraine must and will be restored," Zelensky said.
He thanked Meloni for firmly supporting Ukraine's sovereignty and territorial integrity, emphasizing the importance of the consistent position of her party in support of Ukraine from the very beginning of Russia's full-scale aggression.
The interlocutors also discussed measures to respond to Russia's recent criminal actions at the multilateral level, in particular within the UN and other key international platforms.
In this context, Zelensky also emphasized the need to introduce additional sanctions against Russia, in particular by strengthening the EU's eighth sanctions package and imposing a ban on the EU countries issuing tourist visas to Russian citizens.
Zelensky also informed Meloni about the decision to submit an official application for Ukraine's membership in NATO and expectations regarding accession to the military alliance under an accelerated procedure.
"Even before membership in NATO, Ukraine must receive clear and legally binding guarantees of collective security," Zelensky said, praising the willingness of the Italian side to join this process.
The need to continue comprehensive support to Ukraine after the formation of the new Italian government was noted during the conversation.
Zelensky also invited the head of the future Italian government to visit Ukraine.
Extraordinary parliamentary elections were held in Italy on September 25. The right-wing coalition won the elections. The Brothers of Italy party garnered the most votes - 26%.
Zelensky congratulated Meloni and her party on the election victory. Meloni, in turn, assured him of continued support for Ukraine against the backdrop of Russian aggression.