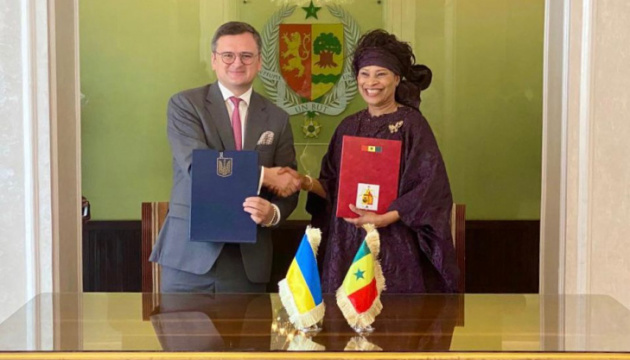 Trade, IT, education: Ukraine and Senegal intensify cooperation
Minister of Foreign Affairs of Ukraine Dmytro Kuleba held talks with Minister of Foreign Affairs of Senegal Aïssata Tall Sall as part of the first tour of African countries in the history of Ukrainian diplomacy.
The ministers agreed to intensify mutually beneficial cooperation in various areas, the Ministry of Foreign Affairs of Ukraine informs.
"Within the framework of the African strategy, Ukraine deepens relations with the countries of the African continent. It is symbolic that the first stop on my African tour was Senegal, an important country that currently presides over the African Union. Together with my colleague Aïssata, we agreed today to open a new chapter of mutually beneficial cooperation between Ukraine and Senegal," Kuleba said.
In this context, the ministers discussed steps to intensify cooperation in the fields of IT, digitalization, cyber security, trade, and education. Senegal's FM thanked the Government of Ukraine for organizing the safe evacuation of Senegalese students from war zones.
Kuleba, in turn, expressed gratitude to Senegal for supporting the sovereignty and territorial integrity of Ukraine within its internationally recognized borders and emphasized the importance of intensifying efforts to protect the fundamental norms and principles of international law against the background of Russian aggression.
"Russia attacked not only Ukraine. It wreaks havoc and supports military coups in Africa. We must join our efforts to stop this negative trend," Ukraine's top diplomat emphasized.
Kuleba also raised the issue of the negative impact of Russia's war against Ukraine on food security in Africa: "By destroying the agricultural infrastructure of Ukraine and blocking access to ports in the Black Sea and the Sea of Azov, Russia is trying not only to limit the main items of Ukrainian exports but also to deprive millions of Africans of access to vital Ukrainian food." In this context, the minister called on Senegal, as the chair of the African Union, to use its influence on Moscow to continue the operation of the Black Sea grain corridor which plays an important role in guaranteeing global food security.
ol