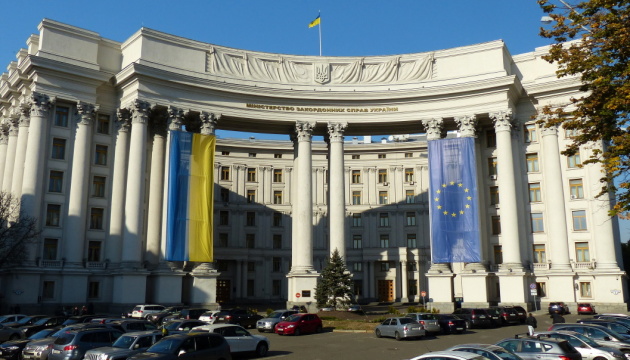 World must recognize Russia as terrorist state for attempt to annex Ukrainian territories - MFA
The annexation attempt targeting Ukrainian lands is legally void under international law.
That's according to a statement by the Ministry of Foreign Affairs of Ukraine on Russia's latest attempts at the annexation of Ukraine's sovereign territories.
"The spectacle arranged by the Russian leadership with the signing of dubious papers with the self-proclaimed leaders of the occupation administrations in Donetsk, Luhansk, Zaporizhia, and Kherson regions of Ukraine on their alleged accession to the Russian Federation in no way changes the legal status of the temporarily occupied areas as sovereign territories of Ukraine and will have no legal consequences for administrative-territorial system or internationally recognized borders of our state," the statement reads.
These actions are legally void under international law and not even worth the paper they are penned on, MFA Ukraine says.
The illegal attempt to annex Ukrainian territories is part of Russia's war of aggression against Ukraine and the deliberate destruction of the UN Charter. Russia is deliberately escalating the situation and showing complete contempt for all countries and international organizations that called on it for negotiations and peace. The Kremlin attempted to annex Ukrainian territories despite warnings from the Ukrainian side that this move would put an end to any diplomatic efforts. Russia deliberately chose war, not peace, according to the Ukrainian diplomats.
In response to Russia's actions, Ukraine adopted a number of decisions to strengthen its security and that of the Euro-Atlantic space in general. Among them is an official request to join the North Atlantic Treaty Organization under an expedited procedure, intensifying efforts to increase military, financial, and humanitarian assistance by partners, as well as speeding up the implementation of security guarantees for Ukraine and Europe in accordance with the Kyiv Security Compact.
Ukraine and the rest of the world will never recognize Russian attempts to establish control over Ukrainian land and will not agree to illegal Russian ultimatums. Realizing its legitimate right to self-defense, Ukraine will continue to liberate the territories temporarily occupied by Russia, restoring its territorial integrity within internationally recognized borders, freeing its people from occupation, defending its right to exist as a state and a nation, MFA Ukraine wrote.
"Ukraine will ensure that the Kremlin is held accountable for all crimes committed," the statement reads.
Ukraine calls on partners to take decisive and urgent action to protect the international legal order, in particular, "to pace up the provision of all necessary military, economic, and financial assistance to our country, as well as to introduce additional tough sanctions against Russia."
"Russia and its leadership should be isolated from the civilized world, they have no place in international organizations and on international platforms. Ukraine insists on the need to legally and politically recognize Russia for what it is: a terrorist state," the diplomats stress.
"We call on every state to support the initiative to create a Special Tribunal for the Crime of Aggression against Ukraine, initiated by the Ukrainian side, in order to hold Russia's top military and political leadership accountable for waging a criminal war against Ukraine," the statement concludes.