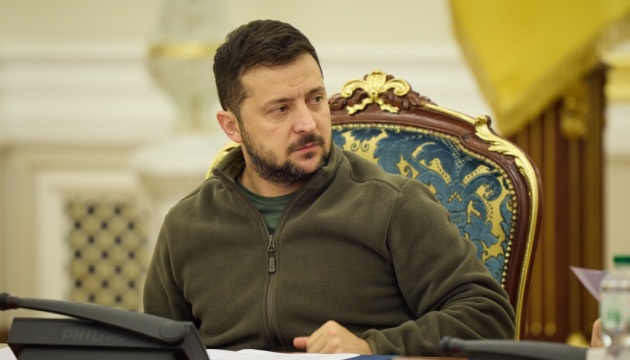 Zelensky: Ukraine ready for a dialogue with Russia but with another president
President of Ukraine Volodymyr Zelensky has stated that Ukraine is ready for a dialogue with Russia, but already with another president of Russia.
"Today I held a meeting of the Staff of the Supreme Commander-in-Chief. The meeting of the National Security and Defense Council has just ended. We have a decision. First – it is only the path of strengthening Ukraine and ousting the occupiers from our entire territory that restores peace. We will complete this path," the President said in his address.
Second, he noted, "Ukraine was and remains a leader in negotiation efforts."
"It was our state that always offered Russia to reach an agreement on coexistence on equal, honest, decent and fair terms. It is obvious that this is impossible with this Russian president. He does not know what dignity and honesty are. Therefore, we are ready for a dialogue with Russia, but already with another president of Russia," the Head of State stressed.
He noted that Russia's first full-scale attack on Ukraine had been launched on February 24 and Russia "would not have stopped at our borders if we had not stopped it."
"Other states would have been under attack. The Baltic countries, Poland, Moldova and Georgia, Kazakhstan... Russia claimed to subjugate various nations of Europe and Asia. Claimed six months ago. This criminal ambition is breaking down in Ukraine. It was broken down in the suburbs of Kyiv and Chernihiv. In "Azovstal". In the Sumy region and Kharkiv region. On Zmiinyi Island. It will be broken down in Donbas and in the south of Ukraine when we liberate them. Definitely - in Crimea, in the free Ukrainian Crimea. The entire territory of our country will be liberated from this enemy - the enemy not only of Ukraine, but also of life itself, humanity, law and truth," Zelensky stressed
As noted, "Russia already knows this. It feels our power. It sees that it is here, in Ukraine, that we prove the strength of our values."
"And that is why it is in a hurry. Organizes this farce with the attempted annexation. Tries to steal something that does not belong to it. Wants to rewrite history and redraw borders with murders, torture, blackmail and lies. Ukraine will not allow that," the President underscored.
As reported, on September 30, the Kremlin held a ceremony of "admission " of the temporarily occupied regions of Ukraine to Russia.
ol