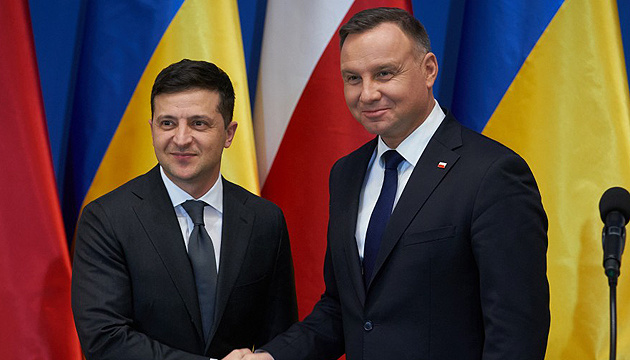 Zelensky, Duda discuss global response to Russia's actions
Ukrainian President Volodymyr Zelensky and his Polish counterpart Andrzej Duda have discussed measures for a powerful consolidated global response to Russia's illegal actions that undermine the foundations of international law.
That's according to the press service of the Ukrainian president, Ukrinform reports.
In a phone call, the two countries' presidents focused on the international reaction to the sham "referenda" held by Russia in the temporarily occupied territories of the Donetsk, Luhansk, Kherson and Zaporizhzhia regions.
Zelensky thanked Duda for the strong support for Ukraine expressed during his speech at the opening of the 77th session of the UN General Assembly in New York, as well as for Poland's clear position on non-recognition of the so-called "referenda."
Both parties agreed on the need for a powerful consolidated reaction of the world to the illegal actions of the Russian Federation, which undermine the foundations of international law. Specific steps and measures that the parties will work on in this context were discussed.
Zelensky and Duda also discussed the issue of military and defense cooperation. Zelensky noted Poland's invaluable contribution to strengthening Ukraine's defense capabilities and the importance of further increased support for Ukraine.
Zelensky congratulated Poland on the official opening of the Baltic Pipeline. "This is a significant event for building up security and strengthening the energy independence of the entire region," he said.
The presidents of Ukraine and Poland exchanged views on topical issues of bilateral relations. Zelensky noted a decrease in lines at the Ukrainian-Polish border and emphasized the importance of further efforts to increase the throughput capacity of the relevant points.
Zelensky also emphasized the interest of the Ukrainian side in introducing joint border and customs control at all checkpoints and speeding up work on a bilateral agreement in this area.
The two countries' leaders separately praised the launch of a new format of cooperation between the first ladies - within the Lublin Triangle - on the margins of the UN General Assembly in New York.