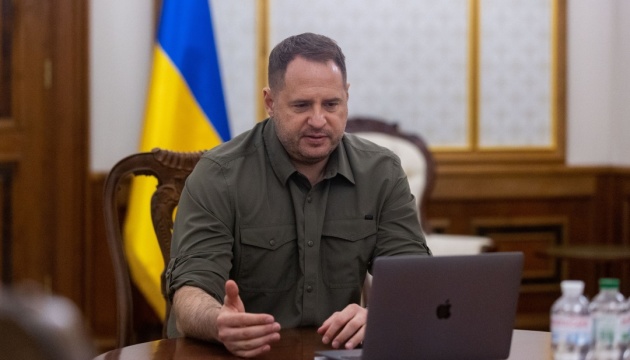 Yermak discusses Ukrainian army needs with Truss's adviser
Head of the Office of the President of Ukraine Andriy Yermak had a telephone conversation with new British Prime Minister's National Security Adviser, former British Ambassador to Ukraine Timothy Barrow.
Barrow pointed out the importance of the recent release of 215 people from Russian captivity, including five UK citizens, the press service of the President's Office informs.
"This was a priority for us. Great Britain is extremely grateful for the release of its citizens. And I can imagine how important it is for you to liberate your fellow citizens and true heroes of your country," he said.
As noted, the interlocutors discussed ways for even closer cooperation between the two countries, which are true partners and friends.
According to Yermak, weekly briefings are held at the President's Office with the participation of Ukrainian service members for military representatives from the US and Great Britain to inform them about the latest developments at the front.
The Head of the President's Office also talked about the successful practice of online meetings with members of the US Congress and suggested organizing similar communication with British parliamentarians.
"It is very important that the members of the British Parliament be informed about the current situation, the success of the Ukrainian army and our needs. This will allow us to continue moving forward and liberate Ukrainian territories," Yermak believes.
The Head of the President's Office also told Barrow about the recommendations developed by the Yermak-Rasmussen international working group regarding future security guarantees for Ukraine, which were sent to the British side.
Barrow noted that Great Britain was impressed by the success of the Ukrainian military and would continue to support Ukraine and its Armed Forces.
"Rest assured that every day when we talk with the Prime Minister, we talk about Ukraine," he said.
As reported, more than 200 Ukrainian defenders, as well as 10 foreigners, were returned from Russian captivity within the exchange on September 21.
ol