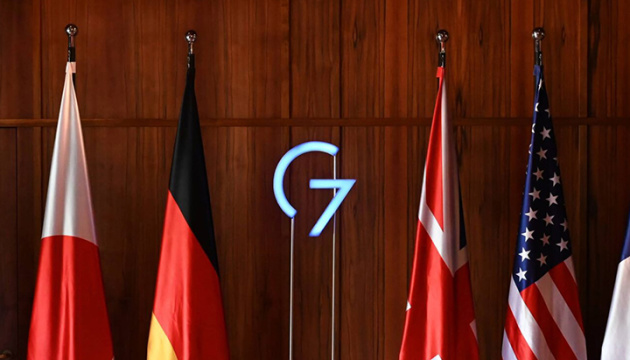 G7 countries not to recognize sham 'referenda' in occupied territories
The Group of Seven (G7) countries will not recognize the pseudo-referendums on the annexation of Russian-occupied territories in Ukraine, which Russia plans to hold from September 23 to 27.
According to Ukrinform, German Foreign Minister Annalena Baerbock said this in a statement following a meeting of the G7 foreign ministers at the UN General Assembly in New York.
"The G7 Foreign Ministers and the High Representative strongly condemned Russia's announcement to conduct sham referenda on sovereign Ukrainian territory, which is temporarily under Russian control. Any referenda held under conditions of Russian military presence, intimidation, and forced deportation cannot be free or fair. Any annexation of Ukrainian territory would be a gross violation of Ukraine's sovereignty and the UN Charter," the statement said.
The G7 foreign ministers and the EU High Representative also called on all states "to unequivocally condemn any referenda and not to recognize the results." They deplored deliberate Russian escalatory steps, including the partial mobilization of reservists and irresponsible nuclear rhetoric, noting that Russia must immediately stop its aggression, withdraw its troops and military equipment from Ukraine and respect Ukraine's sovereignty and the territorial integrity within its internationally recognized borders.
The G7 countries also pledged to pursue further "targeted sanctions and are committed to sustained economic and political pressure on Russia."
"The G7 Foreign Ministers and the High Representative were unanimous in their unwavering commitment to continue and sustain economic, financial, humanitarian, military and diplomatic support for Ukraine for as long as necessary and to the extent necessary, to ensure Ukraine's path to freedom, peace, reconstruction and economic development," the statement read.
On September 20, the leaders of "LPR/DPR" and collaborators in the Russian-occupied territories of the Kherson and Zaporizhzhia regions announced "referenda on joining Russia" and scheduled them for September 23-27. The leaders of Western countries have already declared that any Russian sham "referenda" in Ukraine would be illegitimate. At the same time, Russian President Vladimir Putin said on September 21 that Russia would recognize the results of the "referenda."
A survey conducted by Active Group in August 2022 shows that in the temporarily occupied territories of Ukraine, the vast majority of respondents are sure that their region should be an integral part of Ukraine, and their well-being and security have significantly deteriorated since the occupation.
Almost 73% of respondents consider Russia's territorial claims on their region to be completely unfounded. Also, 82% of respondents in the temporarily occupied territories of Ukraine replied that they would not participate in a referendum if Russia held it in their city.