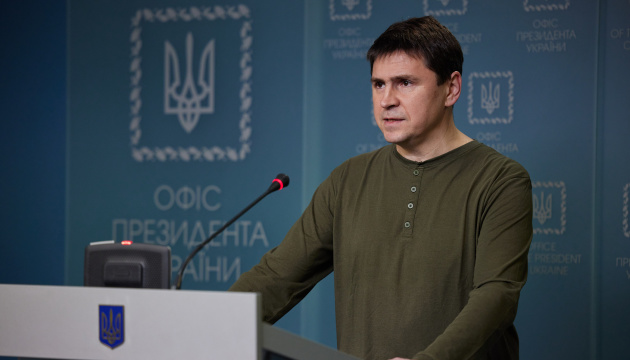 Podolyak: Zelensky–Putin meeting makes no sense so far
Mykhailo Podolyak, an adviser to the Head of the Office of the President of Ukraine, says that neither the negotiation process between Ukraine and the Russian Federation nor a meeting between Volodymyr Zelensky and Vladimir Putin makes sense so far.
"To put it briefly, the negotiation process and a meeting of the presidents make no sense so far," Podolyak told the Ukrayinska Pravda online media outlet.
Podolyak explained it as follows: "First, the Russian Federation still believes that it has enough resources to yield some results. Second, any meeting today is just a traditional Russian game: establish the status quo, do 'deceitful Minsk dances', start a new stage of escalation. It's just an operational pause. And third, Russia must be held to account for large-scale crimes and must not hide behind impunity. Therefore, the war must reach the only possible end. There is no other way."
That is why, Podolyak noted, a bilateral meeting is not on the agenda now. "Moreover, we are not at all interested in meetings for the sake of meetings or the same banal Russian negotiation 'scenario'. We are interested in the liberation of occupied territories, significant tactical defeats of the Russian Federation, mandatory large-scale legal processes. Everything else is a derivative," he said.
At the same time, the adviser to the Head of the President's Office emphasized that the meeting of the presidents was possible if it was preceded by the complete withdrawal of Russian troops, and the conversation would focus on "discussion of post-war life, including the scope of reparations, compensation for damages, and the extradition of criminals."
As reported by Ukrinform, during the regional summit in Uzbekistan [Shanghai Cooperation Organization and Collective Security Treaty Organization] on Friday, Putin promised to continue the attack on Ukraine and warned that Moscow could intensify attacks on Ukraine's infrastructure if Ukrainian troops struck targets in Russia Putin stated that the "liberation" of the entire eastern Donbas was Russia's main military goal and that he saw no need to revise it.
According to media reports, at the press conference following the visit to Uzbekistan, Putin said that Zelensky had no desire to meet with him.
ol