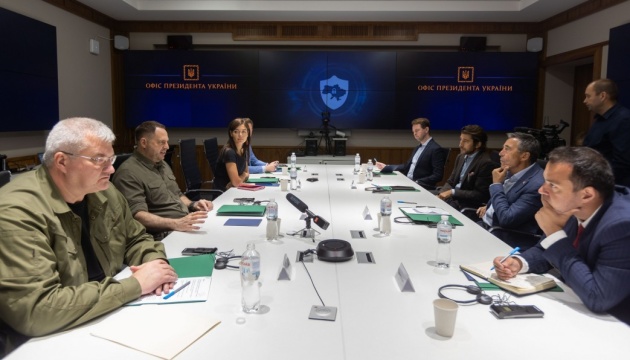 Security guarantees for Ukraine: President's Office publishes recommendations
Recommendations on security guarantees for Ukraine provide for the creation of the Kyiv Security Treaty, which should unite Ukraine and a group of guarantor states.
The relevant document was published on the Ukrainian president's website, Ukrinform reports.
It is noted that an expert group working on the development of the recommendations included specialists from all over the democratic world, in particular former prime ministers, ministers, as well as high-ranking officials and scientists.
According to the President's Office, the recommendations contain a call for the creation of the Kyiv Security Treaty – a joint document on strategic partnership that unites Ukraine and the guarantor states.
"The recommendations provide for a multi-level approach to guarantees. A core group of allies would make clear commitments to support Ukraine's armed forces, while a broader group would provide non-military guarantees built around sanctions mechanisms," the President's Office said.
The proposed recommendations include, in particular:
– The strongest security guarantee for Ukraine lies in its capacity to defend itself against an aggressor under the UN Charter's article 51. To do so, Ukraine needs the resources to maintain a significant defensive force capable of withstanding the Russian Federation's armed forces and paramilitaries.
– This requires a multi-decade effort of sustained investment in Ukraine's defence industrial base, scalable weapons transfers and intelligence support from allies, intensive training missions and joint exercises under the European Union and NATO flags.
– The security guarantees should be affirmative and clearly formulated; they lay out a range of commitments made by a group of guarantors, together with Ukraine. They need to be legally and politically binding based on bilateral agreements but brought together under a joint strategic partnership document – called the Kyiv Security Compact.
– The package of guarantees includes preventive measures of a military, financial, infrastructural, technical, and information nature to prevent new aggression, as well as measures to be taken immediately in the event of a new encroachment on the sovereignty and territorial integrity of Ukraine. In addition, the structure of the Kyiv Security Compact includes a full-fledged sanctions package against the aggressor state, and may also include additional components, such as agreements on providing Ukraine with modern air defense/anti-missile systems, regional agreements on security in the Black Sea, and others.
– The Compact will bring a core group of allied countries together with Ukraine. This could include the US, UK, Canada, Poland, Italy, Germany, France, Australia, Turkey, and Nordic, Baltic, and Central European countries.
– The security guarantees are not a replacement for Ukraine's ambition to join NATO. This aspiration is safeguarded in the Ukrainian constitution and is a sovereign decision for Ukraine. Ukraine is also on the path to EU membership. As an EU member, Ukraine will benefit from the EU's own mutual defence clause. Both NATO and EU membership will bolster Ukraine's security in the long-term. The guarantees outlined today in no way undermine these aims but will ensure that Ukraine has what it needs to defend itself under any circumstance.
"We must make sure that the slogan "We can repeat" causes panic attacks and bad memories among Russians, that they answer only "Never again!" to it. For this, we need a military power strong enough to discourage the Russians' desire for revenge. And capable of causing irreparable damage to the aggressor if this desire turns out to be irresistible. Security guarantees are aimed at helping us create such power," Head of the President's Office Andriy Yermak said.
At the same time, he emphasized that the agreement on security guarantees for Ukraine is not a substitute for joining NATO - it is a means of ensuring security until this accession takes place.
Former NATO Secretary General and Prime Minister of Denmark Anders Fogh Rasmussen noted that Ukraine's victory in this war is an immediate priority.
"Just now Ukrainians are demonstrating on the frontline that, with the necessary resources, they can defeat Russia on the battlefield. Ukrainians demonstrate the will to fight, and the democratic world must continue to provide them with the means to fight. When this war is over, we must ensure that Russia can never invade Ukraine again. The best way to do this is for Ukraine to have a significant military force capable of resisting any future Russian attack," he emphasized.
Rasmussen noted that building and sustaining such a force would require decades of commitment from Ukraine's allies.
"The adoption of these recommendations will send a powerful signal to Vladimir Putin. This would show that our loyalty to Ukraine will not waver, that his war is futile. It would also send a signal to the Ukrainian people that we will loyally support the independence and sovereignty of Ukraine for as long as it takes. Doing it right means laying a new cornerstone of European security. If this is not done, it will mean an aggravation of the crisis on European soil," the former NATO Secretary General said.