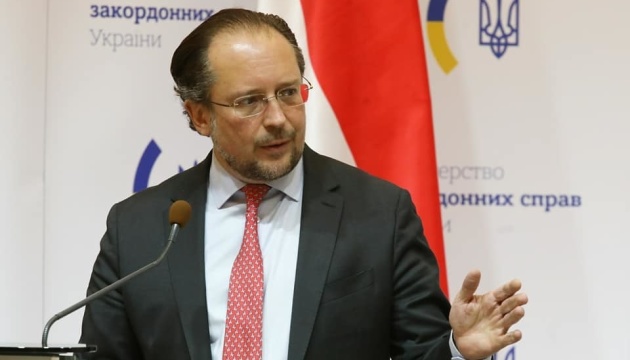 Putin crosses "red line" with energy, food blackmail - Schallenberg
The head of the Austrian Foreign Ministry, Alexander Schallenberg, says Russian President Vladimir Putin crossed a "red line" when he resorted to food and gas blackmail.
That's according to Schallenberg's interview with Profil, Ukrinform reports.
"Moscow is now playing a cynical game with food, the export of which it's blocking, as well as with energy. This is a 'red line' crossed by Vladimir Putin," he said.
According to Schallenberg, it is noteworthy that "Moscow demands sanctions lift in order for Russia to supply gas again."
"And this is proof that sanctions are working. It's like a cry from Moscow. In addition, Russia is doing something that even the Soviet Union didn't do during the Cold War: it is proving to be a completely unreliable economic partner, and it is losing all trust," said the head of the Austrian Foreign Ministry.
He expressed hope that Putin's gas blackmail will not work in Europe because the question now is whether the Western community can defend its values ​​and its way of life.
The Austrian minister also emphasized that Western democracies should prove Putin wrong when he considers them "weak and incapable of acting as one."
"We have to prove him wrong! We surprised him because we have been demonstrating unity for more than six months. Now we need strategic patience and nerves of steel," said Schallenberg.
The head of the Austrian Foreign Ministry also stated that Putin's threats to halt gas flows to the EU in the event of the bloc introducing a price cap on Russian gas imports should not deter the Union.
"It is unfortunate that Russia has proven in recent months that it is not a reliable partner, but this is the reality. Against this background, I welcome the fact that the President of the Commission has presented several proposals for short-term measures. Security of supply and energy availability must be at the heart of all our efforts. That is why it is necessary to study very carefully the individual elements of these proposals," he said.
In addition, Schallenberg stressed that the European Union should "continue to demonstrate unity and further reduce our dependence on Russian gas by switching to alternative and renewable energy."
In the interview, the foreign minister also said that after the full-scale invasion of Ukraine by Russia on February 24, he communicated with his Russian counterpart Sergei Lavrov only once and only in writing. Noting the importance of continued communication, Schallenberg, at the same time, pointed out that he is "very surprised by what he partially heard from Lavrov." "Anti-Semitic statements are disgusting. So many "red lines" have been crossed that a return to the status quo no longer seems possible to me," the Austrian minister added.
According to him, it should not be forgotten that the International Criminal Court is currently investigating "whether Russia is committing war crimes and crimes against humanity." "This is the hardest part," added Schallenberg.
As reported by Ukrinform, the head of the Austrian Foreign Ministry, Alexander Schallenberg, confirmed the position of the federal government regarding the need to extend EU sanctions against the Russian Federation, which are effective and will have an "even more dramatic effect" on Russia in a few months.