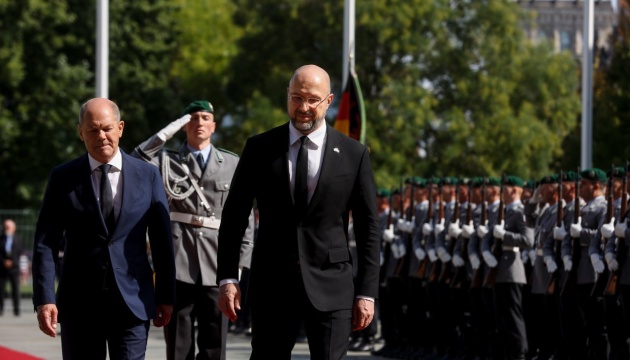 Weapons, sanctions against Russia, restoration of Ukraine: Shmyhal meets with Scholz
Prime Minister Denys Shmyhal has met with Federal Chancellor Olaf Scholz in Berlin.
This is said in a report posted on the Telegram channel of the Ukrainian prime minister.
"Germany is one of Ukraine's key partners in Europe. During the meeting with the Federal Chancellor Olaf Scholz, we discussed the whole range of issues related to finances, weapons, the restoration of Ukraine, sanctions, energy crisis and heating season," Shmyhal said.
It is noted that after Russia launched a full-scale invasion on February 24, Germany has provided Ukraine with a total of EUR 1.4 billion.
"We received 2.4 billion euros from the EU and expect another 8 billion in macro-financial assistance. Of which, 5 billion - in the near future. Germany is also actively helping in this matter," the prime minister emphasized.
According to him, the issue of new arms supplies was another important block, and "there is a common vision of the need to increase the supply of heavy weapons."
Shmyhal also emphasized that Russia has unleashed an energy war against Europe.
"In response, the EU should completely abandon energy resources from the aggressor country as soon as possible. There is a decision on the embargo on Russian coal and oil, but an embargo on gas is also needed. Ukraine is ready to increase its electricity supply, which will contribute to Europe's energy security. It is important to continue joint work on the demilitarization of the ZNPP. I offered to work jointly on sending a special EU and UN mission to the ZNPP," he said.
In addition, Shmyhal told about an agreement to hold a high-level recovery conference in Germany this autumn.
"The federal chancellor has noted his readiness to contribute to the detailed preparations of the Recovery Plan now, in order to quickly launch it after our victory," the prime minister said.
Shmyhal also stressed that Ukraine is now an integral part of Europe and European institutions.
"The recent statement by Federal Chancellor Olaf Scholz that Ukraine should become a member of the EU is an important political manifesto within the framework of the policy of 'Zeitenwende', or 'change of eras'. Ukraine is now not in the middle between the EU and Russia, but an integral part of Europe and European institutions. Together we will build a new, developed European Ukraine as part of a new, strong Europe," Shmyhal said.
A video of the meeting with Scholz was shared on his Facebook.
iy