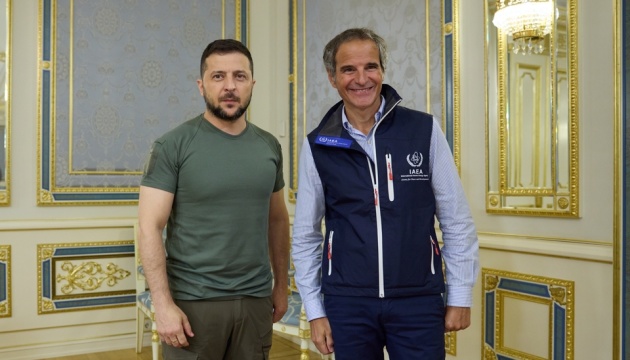 President Zelensky, IAEA Director General Grossi meet in Kyiv
Ukraine expects the International Atomic Energy Agency (IAEA) mission not only to study the situation at Zaporizhzhia Nuclear Power Plant (NPP) but also lay down the demands regarding the demilitarization of the area around and inside the plant.
The relevant statement was made by Ukrainian President Volodymyr Zelensky during his meeting with IAEA Director General Rafael Mariano Grossi, an Ukrinform correspondent reports.
The President of Ukraine thanked the IAEA for the arrival of their mission in Ukraine and emphasized that, as Russian troops seized Ukraine's Zaporizhzhia NPP, there are high risks related to explosions, interruptions in the operation of nuclear reactors and the disconnection of Zaporizhzhia NPP's power units from the Ukrainian power grid.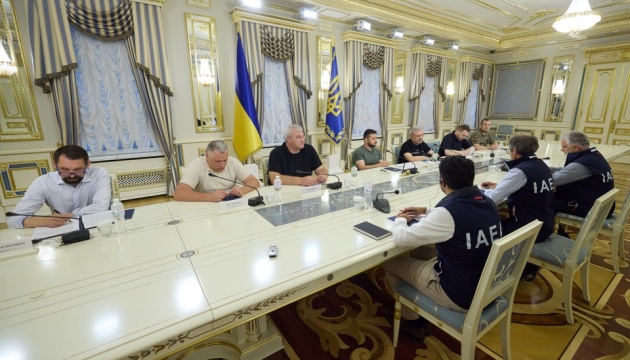 Zelensky also mentioned the issues related to the heating season for Ukrainian citizens and the global threat connected with certain nuclear risks.
According to Zelensky, the Ukrainian side wants the IAEA mission headed by Director General Grossi to access Zaporizhzhia NPP and make every effort to avoid all the global threats.
Zelensky noted that it is important for Ukraine that the IAEA and the UN lay down the demands to ensure that the demilitarized area is created inside and around Zaporizhzhia NPP, the Russian military leave the plant, and Ukraine takes control of the plant.
A reminder that the IAEA mission headed by Director General Rafael Mariano Grossi arrived in Kyiv ahead of its planned visit to Zaporizhzhia NPP.
mk