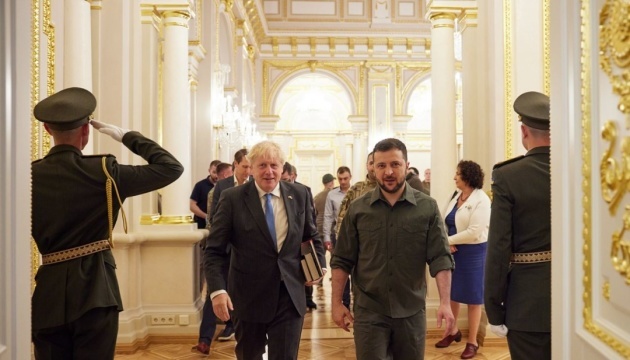 Boris Johnson's plaque unveiled on Alley of Courage in Kyiv
A plaque with the name of United Kingdom Prime Minister Boris Johnson has been unveiled on the Alley of Courage in the city of Kyiv.
The opening ceremony was attended by Ukrainian President Volodymyr Zelensky and United Kingdom Prime Minister Boris Johnson, an Ukrinform correspondent reports, referring to a video provided by the Office of the President of Ukraine.
President Zelensky thanked the Prime Minister of the United Kingdom for his leadership in terms of providing support for Ukraine. He also expressed gratitude to the people of the United Kingdom for the great assistance provided to Ukraine over the past six months.
"But, help is always needed. It is needed on time. I want to thank Boris not only for what he did together with his people but for when he did this – from the very beginning," Zelensky added.
The President of Ukraine also expressed gratitude to all political leaders in the world, who timely provided assistance to Ukraine in the war with Russia.
"We will thank not only in words. We want to thank historically and, thus, today [August 24, 2022 – Ed.] the name of Prime Minister of the United Kingdom Boris Johnson will appear on the Alley of Courage," Zelensky stressed.
Zelensky and Johnson also walked down the streets in downtown Kyiv and visited the exhibition of the destroyed Russian military equipment.
A reminder that the Alley of Courage was opened on Constitution Square in Kyiv in the presence of President of Ukraine Volodymyr Zelensky and President of Poland Andrzej Duda on August 23, 2022. The names of political leaders and the representatives of the partner countries, which have been providing assistance to Ukraine since the Russian invasion started, will be engraved there.
mk