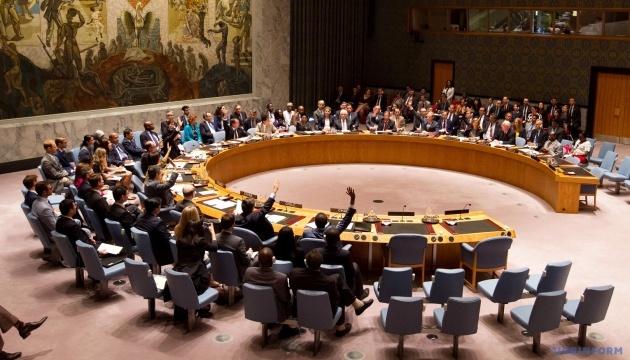 Russia's attempt to change Ukraine's borders by force will never be recognized – United States at UN
The international community will never recognize Russia's attempt to change Ukraine's borders by force.
The relevant statement was made by U.S. Representative to the United Nations Ambassador Linda Thomas-Greenfield at the UN Security Council meeting, an Ukrinform correspondent reports.
According to her, Russian disinformation campaigns are increasingly being weaponized to prepare for further attempts to annex Ukrainian territory. Thomas-Greenfield recalled that Russian Minister of Foreign Affairs Lavrov had publicly acknowledged this as one of the Kremlin's objectives.
"Specifically, Russia is laying groundwork to attempt to annex the regions of Kherson and Zaporizhzhya, and all of the Donetsk and Luhansk oblasts," Thomas-Greenfield explained, adding that the international community will never recognize Russia's attempts to change Ukraine's borders by force.
According to Thomas-Greenfield, Russia is responsible for creating a nuclear disaster risk, connected with the nuclear safety at Zaporizhzhia Nuclear Power Plant (NPP).
The United States is also concerned by Russia's so-called 'filtration' operations, which involve the systematic forced deportations of Ukrainian civilians to remote areas of Russia. These camps are abducting and separating children from their parents. Russian forces are forcibly confiscating and replacing passports, dictating curriculums in schools, and replacing Ukrainian street names and other public signs with Russian language alternatives.
"For all this violence and carnage, these hunger and humanitarian crises, these human rights abuses and threats to vulnerable groups: Russia – and Russia alone – bears sole responsibility. And Russia alone is the sole hinderance to a swift resolution to this crisis. We must continue to call for and ensure accountability for all of Russia's atrocities," Thomas-Greenfield stressed.
A reminder that, on August 24, 2022, the UN Security Council convened a meeting under the agenda item 'Maintenance of Peace and Security of Ukraine'.